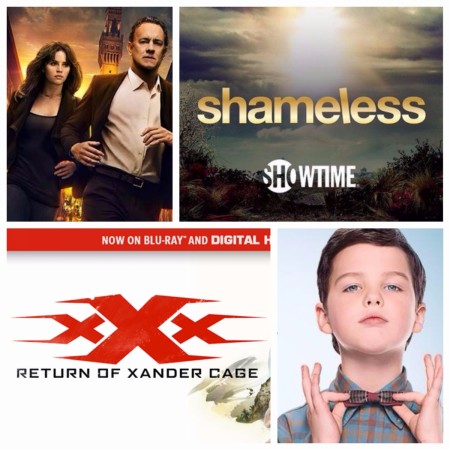 Amazon has released the list of programmes that can be streamed online this November. The list includes popular television drama series, such as Shameless and Young Sheldon as well as films, like XXX: Return of the Xander Cage and Inferno.
Amazon originals like Marvelous Mrs. Maisel and I Love You More are also included in the list with regional movies Baap Janma and Raja the Great.
Also read 10 things you HAVE to stream and watch online on Netflix this November!
Check out the complete list of shows that are available on Amazon this November below:
US TV
The Girlfriend Experience Season 2: An anthology TV series that is based on Steven Soderbergh's film The Girlfriend Experience.
Shameless Season 8: An alcoholic man lives in a perpetual stupor while his six children with whom he lives cope as best they can.
Young Sheldon: The early life of child genius Sheldon Cooper, later seen in The Big Bang Theory (2007).
US Features
XXX: Return of the Xander Cage: Xander Cage is left for dead after an incident, though he secretly returns to action for a new, tough assignment with his handler Augustus Gibbons.
Inferno: When Robert Langdon wakes up in an Italian hospital with amnesia, he teams up with Dr. Sienna Brooks, and together they must race across Europe against the clock to foil a deadly global plot.
US Originals
The Climb: Two professional solo climbers form an uneasy partnership after a successful rescue mission grants them the gift of a lifetime.
I Love You More: Georgia and Peter discover a mutual admiration for music and each other through the latest Buzzcocks single.
Sea Oak: Aunt Bernie, a working-class woman in a Rust Belt city (meek, unmarried, no kids) dies tragically in a home invasion. Compelled by sheer force of dissatisfaction, she comes back from the dead full of rage, determined to get the life she never had. She proceeds to inflict a range of demands on what's left of her nuclear family (a quasi-stripper nephew and two feckless nieces), who live in a low-end subsidised hellhole of a housing complex called Sea Oak.
Marvelous Mrs. Maisel: A housewife in the early 1960s decides to become a stand-up comedian.
In Regional
Baap Janma: Bhaskar Pandit is a senior citizen living only with his caretaker Mauli and his dog Tiger. His wife passed away a few years back and he has a strained relationship with both his children. One day, while going through his journal he realises that he has been living the exact same routine for many months. With this sudden jolt of realisation, he decides to go on a mission to mend the relationship with his children - and he will stop at nothing till he achieves what he wants.
Raja the great: Raja who is born blind but has extraordinary senses and is a trained skilful fighter is assigned to rescue a girl.
Raju Gari Gadhi: There is a haunted house in Nandigama. Dead bodies of 34 people resurface in house's well over a period of time. A TV channel plans to host a reality show in that haunted house.