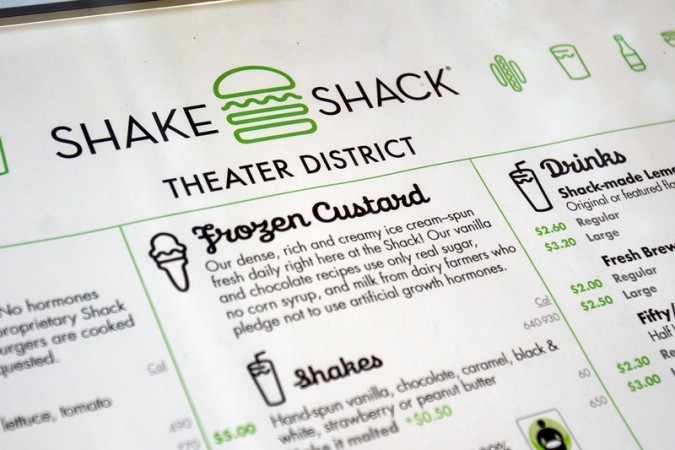 Shake Shack, the famous New York-based restaurant chain is all set to go public. The burger giant reportedly filed for an Initial Public Offering with the US Securities and Exchange Commission on Monday to list on the New York Stock Exchange under the symbol "SHAK".
Shake Shack said that it aims to raise about a $100 million in its debut offering through an undisclosed amount of shares. There will be two types of shares after the initial offering.
From a Cart to the 'Big Board'
Shake Shack started off as a hot-dog cart on Madison Park, Manhattan, as a public service. According to The New York Times, founders of Shake Shack wrote in a note to investors:
"Our vision was for Shake Shack to be a 'community wealth venture,' and if it really worked, the park would feel safer, and much-needed dollars would be generated to provide funding for the park's robust budget for ongoing maintenance, horticulture and public programming."
The company has come a long way from its humble beginnings. Today, Shake Shack operates 63 restaurants around the world. It has also become quite popular with the Wall Street. Shake Shack has also earned some Hollywood fame with mentions in serials like "Tower Heist," "The Newsroom" and "The Daily Show."
Why the IPO?
Shake Shack has mapped a great growth trajectory over the years but as more companies crowd the market, competition has held off growth.
In 2013, Shake Shack reported revenue of $84.5 million, up 45% from 2012. Profit was also up 31% from 2012 at $5.4 million in 2013. However, net income fell and sales growth slowed 3%.
Also, Shake Shack is looking to fuel its global expansion. Quartz has a few charts that show the company's growth over the years.