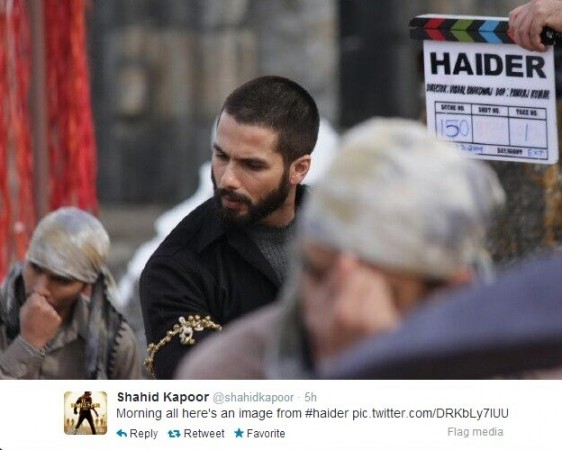 Shahid Kapoor's near-bald look for Vishal Bhardawaj's film "Haider" has finally been revealed.
When Shahid tweeted saying that he is going to lose his hair, the news went viral on micro blogging site Twitter. However, the actor hasn't shaved it completely, but has gone near-bald.
After closely guarding the look for several days, the actor and the filmmakers have finally revealed the new look.
Shahid took to Twitter on Monday morning to post the photo of his near-bald look.
"Morning all here's an image from #haider," Shahid tweeted along with the photo.
Shahid trimmed his hair on 28 January and since then the look was kept under wraps. Shahid was spotted wearing a skull cap throughout the shooting until Saturday.
According to Indian Express, Shahid shaved his head at a famous salon "Faisal Hairdressers" at Dal Gate in Srinagar.
Bollywood actors like Sanjay Dutt, Jimmy Shergill and Ajay Devgn among others are clients of the salon.
The film is in the final schedule of shooting and before shaving his hair Shahid posted on twitter about his movie.
"Reading scenes for the final sched of HAIDER..Nervous and excited..Last 4 days of hair I can run my hands thru..Snowed out kashmir calling," Shahid wrote.
However, his fans were not happy with his decision and the hashtag #DontGoBaldShahid was trending on Twitter for almost three days.
The "R... Rajkumar" actor had previously said that he knew that he would have to go near-bald before signing the film.
Shahid is playing the role of Kashmiri 'Haider' in the upcoming film, which is a screen adaptation of Shakespeare's 'Hamlet'. The film also features Irrfan Khan, Tabu and Shraddha Kapoor in lead roles.