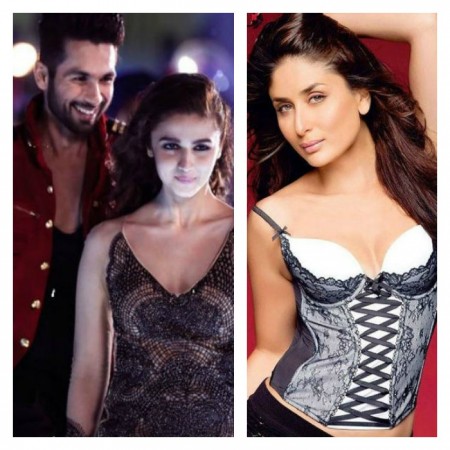 Shahid Kapoor and Kareena Kapoor Khan are set to work together in a film again and it is Shahid who referred the name of his former girlfriend for the role.
"Udta Punjab" has been making news ever since the ex-flames were roped in for the project.
The film features Shahid, Kareena and Alia Bhatt in pivotal roles.
Although the ex-couple, who last starred in blockbuster "Jab We Met", are part of the project, the duo will not share screen space in the film.
However, the recent buzz is that Shahid recommended Kareena's name even before Alia.
"Actually, I never wanted to recommend Kareena because I was scared thinking about how people will perceive that again. When I was narrated the film, I thought of Kareena even before Alia. The role that Kareena plays, I felt she was just perfect for the role," Shahid told DNA.
The "Shaandaar" actor said that initially nobody was agreeing to do the film, thus it took time to form together the cast.
"'Udta Punjab' on paper might seem dark and edgy, but once you see that film, I can assure you it's the kind of role any actor would die for. When I heard the script, I instantly agreed. There were three other characters and we were waiting for them to be cast. Nobody was saying yes to the film and we could not start. It took some time for the film to get cast," the daily quoted Shahid as saying.
However, it was Shahid who recommended Kareena and Alia's names and fortunately, both the divas agreed to do the film. As Shahid was working with Alia in "Shaandaar" at that time, he asked her to go through the script, after which Alia agreed to be a part of the film.
"Alia has an amazing role in the film. In fact, everyone's role in that film is incredibly good," Shahid told DNA.
"When I told Alia to go through it, I felt Alia is as much an actor as she is a star. So therefore she would understand what potential that content had and she did," he added.
In the film, Alia plays a daily wage labourer from Bihar who comes to Punjab in search of work, but ends up becoming a victim of drug trafficking that is prevalent in the state.
"Udta Punjab" will revolve around the increasing problem of drug abuse in Punjab. The entire star cast is expected to play important roles in dealing with the drug menace in the state.
Directed by Abhishek Chaubey, "Udta Punjab" also features Diljith Dosanjh and will be released early next year.