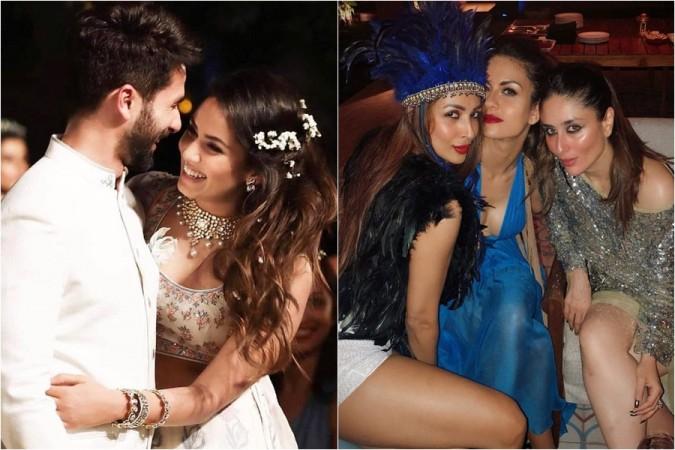 Shahid Kapoor's wife Mira Rajput had earlier revealed that her husband is a control freak and always tells her what to do when she was asked by Neha Dhupia about her favorite position in bed in her chat show BFFs with Vogue. And now the Padmaavat actor has revealed some of their bedroom secrets and said that Mira sleeps in his clothes.
Giving some insights into his private life, Shahid Kapoor said, "The house we live in now, it got ready 6 months before we got married, and so there was no plan for a wardrobe for a lady, it was supposed to be for me alone."
He added, "I had two sides, and they were exactly the same size and so when she came in I emptied one side and said this is what I have. So we have the exact same size wardrobe" and said, "Mira sleeps in my clothes!"
Meanwhile, the ageless beauty Malaika Arora Khan also showed off her wild or rather naughty side when she recently appeared on Neha Dhupia's chat show. When asked about her preferences in men, Malaika said, "Game night, bearded boys and funny guy."
While answering the question, she also revealed her favorite position in bed and said she likes to be 'On Top'.
Malaika and Arbaaz have now been living their lives separately after they ended their 18-year-long marriage. The two got divorced last year but they share a cordial relationship with each other.
After parting ways with her rumored boyfriend Arjun Kapoor, it was reported that Malaika has been secretly meeting a businessman, who takes her out for lunches, dinners and late night drives and also pampering her with gifts.
When Neha tried to ask a tricky question of whether she is lucky in cards or love, Malaika quickly replied, "I'm terrible at cards, so I guess lucky in love."
We wonder at whom Malaika is hinting at.