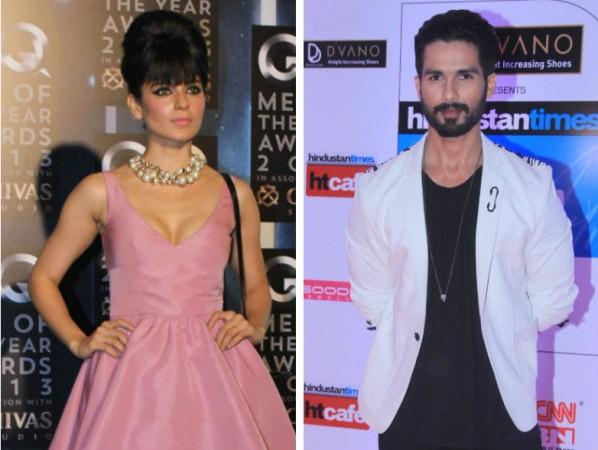 Shahid Kapoor is apparently miffed with Kangana Ranaut for the latter's recent remark of calling herself the "third hero" in the movie "Rangoon."
Shahid has responded to Kangana's comment asserting that he does not think being a hero or heroine makes any difference. "Why doesn't she say there are three heroines in the film? is there anything less in being a heroine. There are three protagonists in the film and for me, being a hero or a heroine doesn't make any difference. So, if saying that you being a hero makes you a bigger person, I don't agree with that thought process," Shahid told DNA.
Kangana had earlier raised the issues of pay disparity in the industry and had also claimed that she allegedly being the highest paid Bollywood actress currently is justified. The actress reportedly had also said that she got the same payment for "Rangoon" that the two male leads, Shahid and Saif Ali Khan, got.
Talking about the alleged pay imbalance in Bollywood, the "Udta Punjab" actor said: "Pay parity depends on the saleability of a particular person. I can also sit and cry that I am getting less money than other male actors. I can't complain about my pay and I know that. That's because my films sell for a certain amount of money whereas other actors sell for a different amount. Obviously, that should not be the case and the audience should view a film for its content, regardless of whether it is female-driven or male-driven. Unless that happens, you are paid for your viability. But if somebody is getting paid less than what they deserve, based on their commercial viability, that can be a problem."
Earlier, there were reports that Kangana had tried to give some acting lessons to Shahid and Saif on the sets of "Rangoon" that did not go down well with the actors. The actress had also reportedly offered suggestions on certain dialogues and scenes to director Vishal Bhardwaj and the film-maker had told Kangana that he is in-charge of the movie.