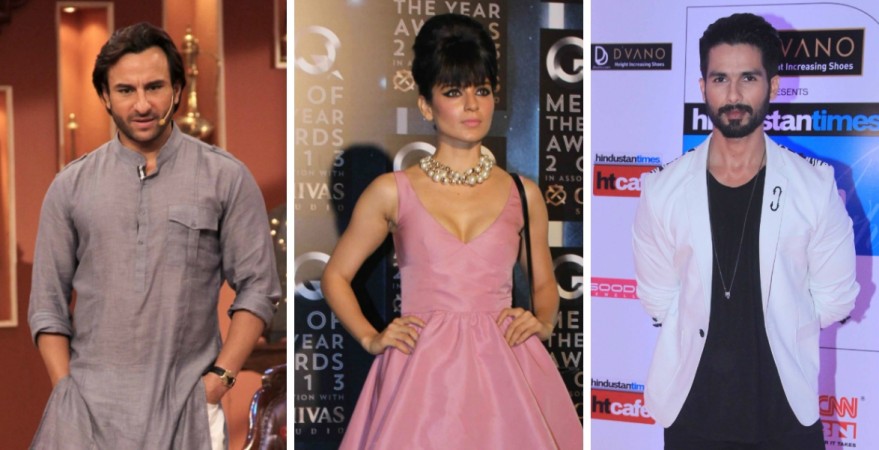 Kangana Ranaut reportedly became a reason of tension on the sets of Vishal Bhardwaj's upcoming movie "Rangoon" when she apparently tried to give Shahid Kapoor and Saif Ali Khan some acting lessons.
It has been reported that Kangana started giving tips to Shahid and Saif on how to do certain scenes in the film. The actress also reportedly offered inputs on dialogues and scenes, something that did not go down well with the director.
"Pehle toh Shahid aur Saif ke beech mein bass kaam ki baat-cheet hoti rahi. Uske baad Kangana ne apna 3 times national award wala card pheka. Bohot zyada tension tha sets pe ( First, Shahid and Saif used to discuss only work. Then, Kangana used her three-time-national-award-winner card. There was a lot of tension on the sets of the film)," SKJ Bollywood News quoted a source as saying.
"Vishal very clearly told Kangana he was in charge and she was to obey his orders. Kangana complied," the source added. The report also quoted the source as saying that Kangana and Shahid used to stay aloof from each other on the sets and did not communicate much.
Earlier, Shahid and Saif did not turn up for the "Rangoon" wrap-up party that was attended by Vishal and Kangana. There were also reports that Saif and Shahid were not happy about the "Queen" actress allegedly being portrayed as the hero of the film.
"Rangoon" is apparently a period drama set in the backdrop of World War II. While Kangana reportedly plays an actress in the movie, Saif will be seen as a film-maker and Shahid will portray an Army officer.