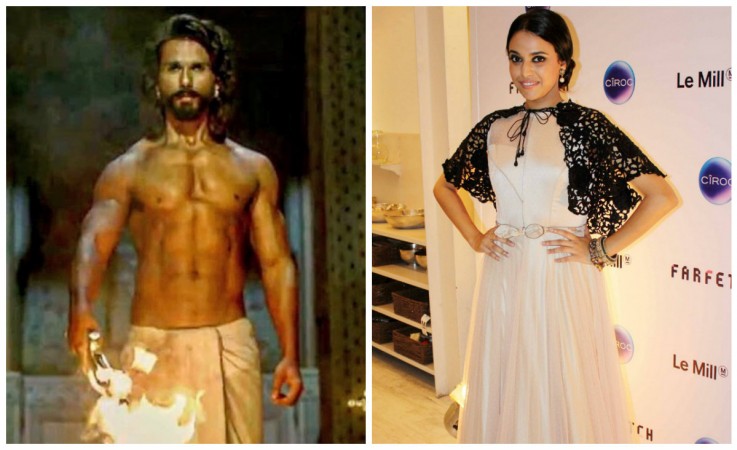 Swara Bhaskar's in an open letter recently said she "felt like a vagina" after watching Sanjay Leela Bhansali's Padmaavat. Actor Shahid Kapoor has now reacted to her statements, calling the letter a "bit disgusting".
Swara raised eyebrows with the open letter in which she slammed Bhansali, claiming he glorified practices like "sati" and "jauhar" in the movie Padmaavat. One of the most-talked-about parts of the long letter has been the line that read: "I felt like a vagina. I felt reduced to a vagina–only."
Also read: Padmaavat day-4 box office collection: Sanjay Leela Bhansali's magnum opus crosses Rs 100 crore in first weekend
While Swara's open letter got mixed reactions — mostly negative — from people, Shahid said he found the actress' letter "a bit disgusting".
Shahid said he was aware of Swara criticising Padmaavat in her letter, but he had not read it. "Yes, I have come to know about Swara's letter, but honestly I haven't read it yet because it is a long letter, and we are very busy these days. I don't know what issue she has. Perhaps, whatever issue she has, it is related to Sanjay sir (Sanjay Leela Bhansali)," Nav Bharat Times quoted Shahid as saying.
Shahid, who played one of the lead roles in Padmaavat, said at a time when the entire industry has been supporting the movie, this open letter from Swara appeared to be a little "disgusting".
"I would say this is not the time for all these. Padmaavat is representing the entire film industry. It is also representing freedom of expression and freedom of speech. We had a tough time in making this film reach the audience, and at a time when the entire film industry stood beside us, I find this open letter a bit disgusting. But everybody has the right to put forward his or her views, and she has put out her personal views in the letter," Shahid told the publication.
Swara in the letter had expressed displeasure at Bhansali "glorifying jauhar and sati" by showing Padmavati's character taking the route of self-immolation rather than accepting the captivity of Alauddin Khilji.
"You will say that you put out a disclaimer at the beginning of the film claiming that the film did not support Sati orJauhar. Sure Sir, but you followed that up with a two-hour-45-minute-long paean on Rajput honou...There were more than three instances of the 'good' characters of your story speaking of Sati/Jauhar as the honourable choice, your female protagonist – epitome of both beauty, brains and virtue sought permission from her husband to commit Jauhar, because she could not even die without his permission; soon after she delivered a long speech about the war between Satya and Asatya, Dharm and Adharm and presented collective Sati to be the path of Truth and Dharm," she said in the letter.
You can read the main excerpts of the letter here.