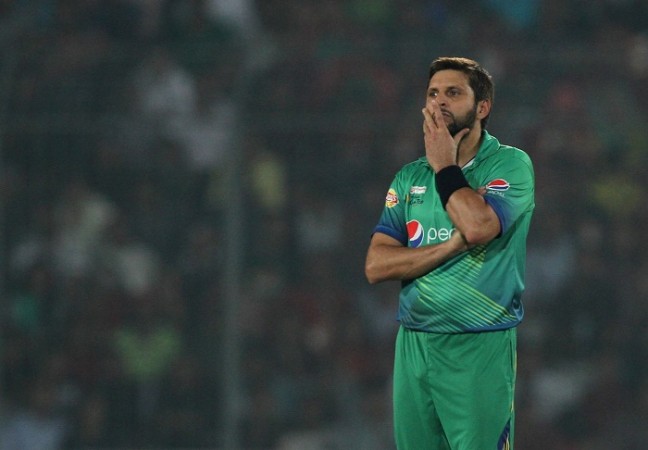 Pakistan superstar Shahid Afridi has already retired from Test and ODI cricket, but the swashbuckling batsman decided to make himself available for T20Is, despite initially suggesting he would call it a day after the World T20 2016. However, despite the change of heart, Afridi was not picked for the T20 series against West Indies in UAE.
After Pakistan's in the World T20 earlier in the year, Afridi, who resigned as captain, has not represented the Men in Green since. He was ignored for the one-off T20 match against England last month as well.
Exclusion from the West Indies series led to questions about his immediate future, with retirement looming large for the former T20 captain. There were reports, which suggested a graceful exit via a farewell match for the cricketer, who has represented Pakistan for nearly two decades.
Afridi's participation in the West India series was almost a surety – agreed by PCB chairman Shaharyar Khan and chief selector, Inzamam-ul-Haq, who had also spoken to Afridi.
"Yes it is correct that a decision was taken and approved by Shaharyar and Inzamam that Afridi would travel to UAE as the 16th player and appear in a final match against the West Indies before announcing his retirement and going out gracefully," PTI quoted a source as saying.
Such talks might have relaxed Afridi, who could bid adieu from the game in front of his fans. But, Pakistan Cricket Board's senior member Najam Sethi turned down the plan and did not want him to be in the squad just for the sake of a farewell match.
"Sethi made the point that the board would be setting a wrong example by including Afridi as a 16th player just to give him a chance to play his farewell international match and it was also not befitting for such a senior player," source said.
Sethi has plans for Afridi, but it is not something, which Afridi might be pleased with. The official wants to meet the cricketer, and talk about giving him a 'proper farewell event', to confirm his retirement decision.
"Sethi's argument is logical and he made it clear that he would speak to Afridi himself and settle the matter. Sethi will now meet Afridi in last week of September and offer him the chance to accept a proper farewell event and announce his retirement. Afridi might have played his final match for Pakistan if the plan given by Sethi is followed to the letter," he added.