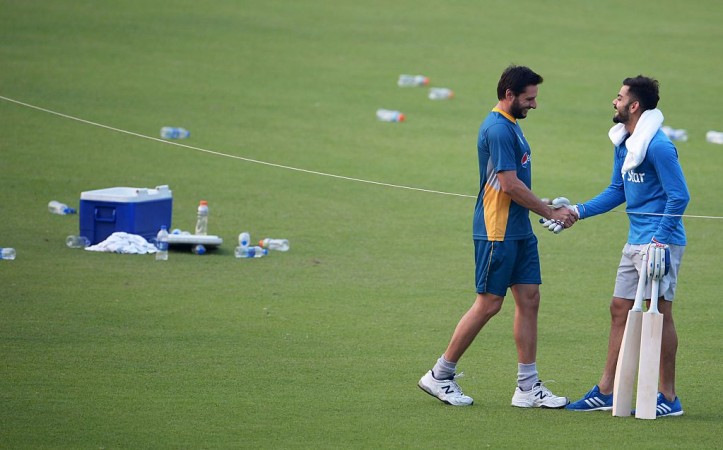 Former Pakistan captain Shahid Afridi today (February 10) described India skipper Virat Kohli as a "fantastic human being" and opened up on his relationship with the superstar batsman.
Though there has been no bilateral cricket between India and Pakistan since 2013 due to political tensions, Afridi declared that his equation with Kohli is not "dictated" by that.
"My relationship with Virat is not dictated by political situation. Virat is a fantastic human being and an ambassador of cricket for his country, just like I am for my country," Afridi told Press Trust of India (PTI) news agency in Switzerland during St. Moritz Ice Cricket 2018.
"He (Kohli) has always shown a lot of respect and has even gone out of his way to present a signed jersey for my foundation," he added.
Afridi-led Royals defeated Diamonds, captained by Virender Sehwag in two matches played on a frozen lake in St. Moritz on February 8 and 9. They took the first game by six wickets and made a clean sweep in the second with eight-wicket win.
According to Afridi, relationship between cricketers can be a template for cordial ties between nations.
"There is a lot of warmth and fellow-feeling whenever I have spoken to Virat. It's not that we get a chance to speak a lot but from time to time, he would drop in a message and I would do the same. I congratulated him recently when I came to know the he was getting married.
"I believe as cricketers we can set examples of how relationship between individuals can be a template for relationship between countries. I think after Pakistan, the two countries where I have received most love and respect are India and Australia," he explained.
India and Pakistan only meet in International Cricket Council's (ICC) tournaments. Recently, India, coached by Rahul Dravid, defeated Pakistan in the semi-final of Under-19 World Cup in New Zealand.
Last year, at the ICC Champions Trophy in England, India's senior team lost to Pakistan in the final.