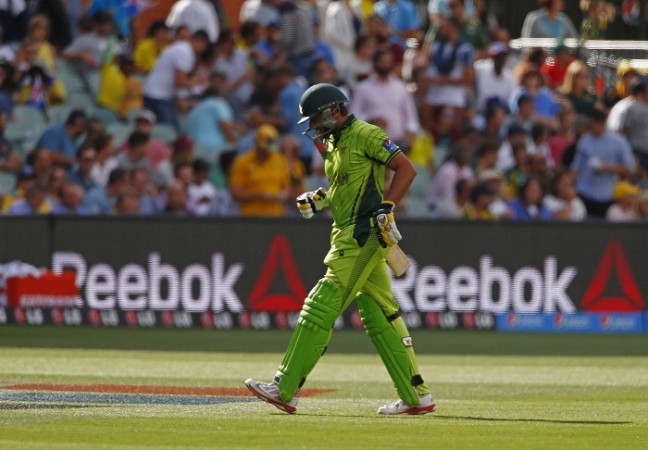 Pakistan's all-rounder Shahid Afridi said he is ready to quit from the international cricket if he feels that he is a burden for the team.
This flamboyant all-rounder retired from the One-Day International (ODI) format after the recently concluded ICC World Cup 2015 and he had already quit Test cricket back in 2010.
Pakistan was awful against Bangladesh as they suffered a 3-0 loss in the ODI's and also lost the one-off Twenty 20 game recently. Afridi confirmed recently that he is only going to play T20 cricket and would be concentrating on building a strong team before the ICC T20 World Cup, which is scheduled to be played in India next year, reported The Times of India.
"The fact is that the senior players are letting down the team. We can't expect to win much with our current poor form. I want to lead from the front, and if I feel that I'm going to be a burden, then I will quit the format well before next year's ICC Twenty20 Cricket World Cup in India," said Afridi in an interview.
Afridi feels that the senior players should take more responsibilities and focus on helping the youngsters in their side before the ICC T20 World Cup next year. Afridi could not make any impact on the lone T20 game against Bangladesh as he could not pick up a single wicket. He was also out of form during the recently ended World Cup, where he could only manage to bag three wickets in seven games.
"Pakistan cricket is going through a tough phase. If the seniors don't contribute then the problems would only increase. We need to experiment with youngsters and form a potent combination before the World Twenty20, but for that we need the support of the established players," he added.
Afridi also feels that Pakistan is in dire need of hard-hitting all-rounders or else it would be difficult for their side achieve success in near future. "We need a big-hitting all-rounder. We lack stroke players in the team who can play big shots at any given time. We need to sort this issue," Afridi said.