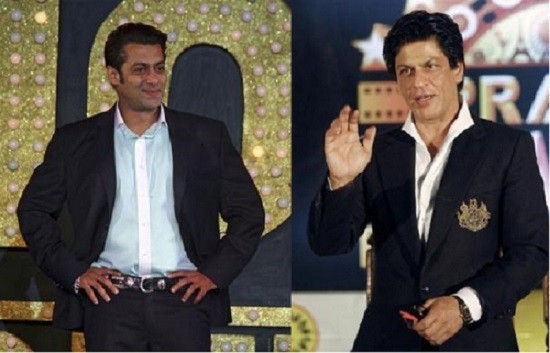 Last year, when Shah Rukh Khan and Salman Khan hugged each other, everyone believed that their rivalry between them has come to an end. But the Indian Premiere League matches have brought a twist to their story.
Apparently, Shah Rukh who is the co-owner of Kolkata Knight Riders (KKR) team was upset with Salman for supporting Preity Zinta's team Kings XI Punjab team (KXIP).
Salman and Zinta, who is the co-owner of KXIP team, share a great bond. Zinta has always said that Salman is her "friend for life" and the "Jai Ho" actor feels the same. Therefore Salman supported Zinta's team during the Qualifier match between KXIP and KKR.
On Wednesday, Salman asked his fans on twitter about the status of the match between KKR and KXIP. "Zinta's team won kya?" he tweeted.
"Salman's likes and dislikes are very clear. Like everyone, he too must've been curious about the results of the match. But making his support obvious and blatant could've been avoided," a source close to KKR told Deccan Chronicle.
SRK's KKR might have won the match, which was held on 28 May, but Salman's support to KXIP has not gone down well with the "Chennai Express" actor, according to DC.
"Though they never officially patched up, they had just started to acknowledge each other's presence and greet each other in parties and events," the source added.
SRK and Salman's created buzz in the industry when they hugged each other last year at an Iftaar party hosted by Congress leader and Bandra MLA Baba Siddique.
But Salman's father, Salim Khan said that there is not much chance of reconciliation between the actors.
"Please don't give so much importance to it. There are disagreements between miyaan-biwi, neighbours, society and so many other individuals. They (Salman and Shah Rukh) are actors and rivals. Inke problems hote hain aur solve bhi ho jaate hain. I have always maintained that there can never be any love between any two big stars, only courtesy," Salman's father told DNA.