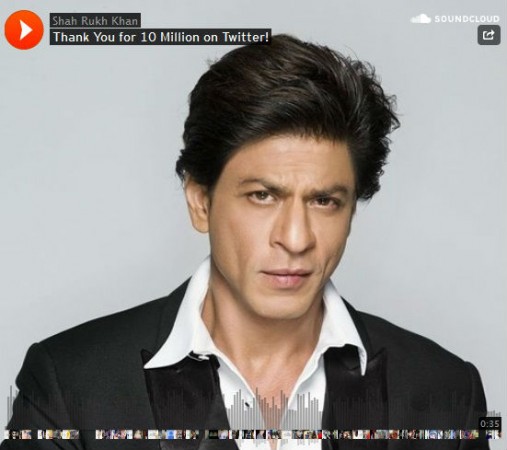 Bollywood superstar Shah Rukh Khan, whose Twitter fan following hit the 10-million mark recently, has thanked his fans for the love and support and promised to start voice blogging if his first audio post gets a good response.
Clearly excited about his 10-million followers on Twitter, Shah Rukh took to his micro-blogging page on Sunday to thank them. Besides posting an audio message, the superstar tweeted, "Thank You for 10 Million on Twitter! We accept the love we think we deserve. I don't know if I deserve it, but I am extremely grateful. May all of you get as much love as you give me. Thank you....again."
In his 35-second audio message, Shah Rukh expressed his wish to start to voice blogging and also clarified the reason behind it. He started his audio message saying, "Hi Everybody! I'm Shah Rukh Khan and why I am introducing myself is because perhaps some of you have heard me on radio, may be on television or may be on films, but this is first ever that you'll be hearing me on Twitter and what better reason than to say I love you.
He continued, "Of all the love that you have given me. All the 10 million heartbeats of love. Thank you very much. Love you. I have been warned if you guys like this experience I will start a voice blog. I am scared."
The "Happy New Year" star posted his message on SoundCloud, which is an audio platform that enables sound creators to upload, record, promote and share their original creations. Apparently, it seems that his account on this website is going to be his voice blog through which he wants to keep all his followers informed about the latest happenings in his life.
Meanwhile, Shah Rukh's audio tweet has been marked as 'favourite' by over 5,000 followers and retweeted by over 3,100 people. The stats displayed below the audio on SoundCloud shows that 82,802 people have listened his voice message and 860 people have liked it. Is it enough for the actor to call it a good response?
Have you heard the audio yet? If yes, what is your take on the actor starting voice blog? If not, click here to hear his message and let us know your reaction in the comment box below.