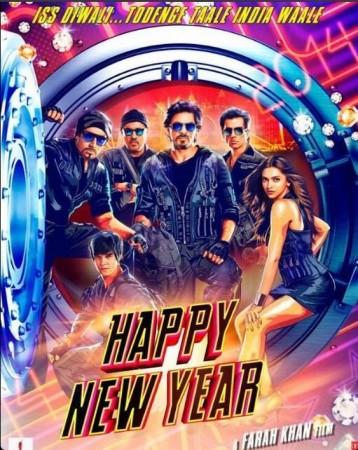 The makers of "Happy New Year" have released the first poster of the highly anticipated 2014 film on January 2, as promised. Also, fans got their personalised poster, signed by their favourite stars in the film.
The filmmakers started a huge campaign on social networking sites Twitter and Facebook, ahead of the poster release.
The poster, which is believed to be unique, features all actors of "Happy New Year", including Shah Rukh Khan, Deepika Padukone, Abhishek Bachchan, Boman Irani, Sonu Sood and Vivaan Shah.
The tagline on the poster reads "Iss Diwali... Todenge Taale India Waale", which suggests the story is basically about some big robbery.
The personalised posters for fans were signed by all six stars and director Farah. The poster was later sent to all fans and fan clubs on Twitter and Facebook for their support.
"I hope you like the poster for the film @HNY. All that begins this year or ends this year for u, may it be the best for each one of u. Love," SRK tweeted.
"Happy New Year" is Farah's most ambitious project so far and was announced in 2005.
"My dream project 'Happy New Year' takes another step towards realisation with the first poster being launched today. I believe in cinema that entertains and with a dream cast like this we hope it will be the most entertaining film of the year. Shah Rukh and I have had a dream partnership always and with this our third collaboration we hope it will be a very HAPPY NEW YEAR indeed," Farah told The Times of India.
SRK has been following the tradition of releasing his new films' posters on 2 January. Earlier, "Ra.One" and "Chennai Express" first look were released on 2 January.