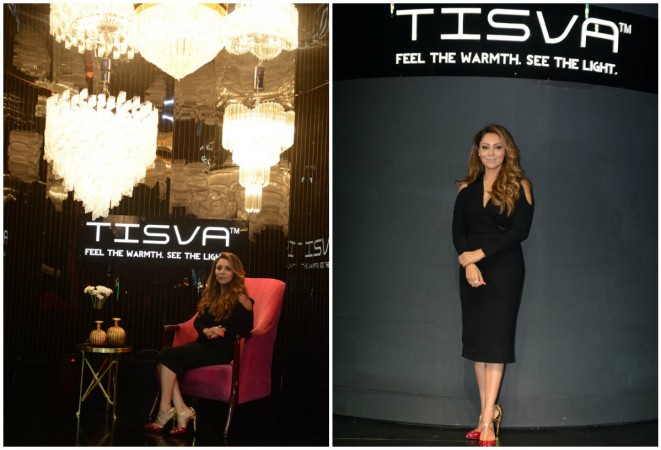 Shah Rukh Khan's wife Gauri Khan launched her signature collection of designer lights from TISVA at The Leela Palace Hotel, New Delhi today (August 21).
It is well known that Gauri Khan is one of the most sought-after interior designers and owns a decor store named Gauri Khan Designs in Mumbai. She has designed the interiors of some restaurants and redecorated homes of her some celebrity friends. Now, she has curated a collection of designer lights-- aesthetically hand-crafted Murano glass luminaires from Italy.
This new collection of designer lights were unveiled a grand function held in New Delhi. Suhel Seth, Sunita Kohli, Shivani Wazir, Shobha Deepak Singh, Kenji Hiramatsu, Soni Mahdi, Rohan Jetly, Anchal Gulati, Charu Chawla and few others were present at the launch in New Delhi.
Speaking at the launch, Gauri Khan said, "The Ringlet is a sculptural inspiration to look up to, while the Fotios when used with its dimming technology lends grace and elegance; the Elinore in turn with its gold elements lends drama even to low ceilings. The Calante range of magnetic track lights are easy to maneuver and doesn't' look like a light. Lastly the new down lighters will add drama to any lobby area."
The collection features chandeliers, ceiling lights and other handcrafted masterpieces in Murano glass built by skilled Italian artisans from TISVA, which is a premium home decorative lighting brand from Usha International Limited. A true lighting connoisseur's dream, its regal presence is also empowered with new age technology that enables it to be highly energy efficient even with prolonged use.
The collection commands and adds regal drama to your abode. The new range also includes smart control magnetic track systems, introduced for the first time in India. Designed for three types of mounting, they can be used as pendant, recess and surface. These tracks can be securely mounted with snap fit magnetic luminaries. Gauri Khan's collection will be available at all TISVA exclusive stores.