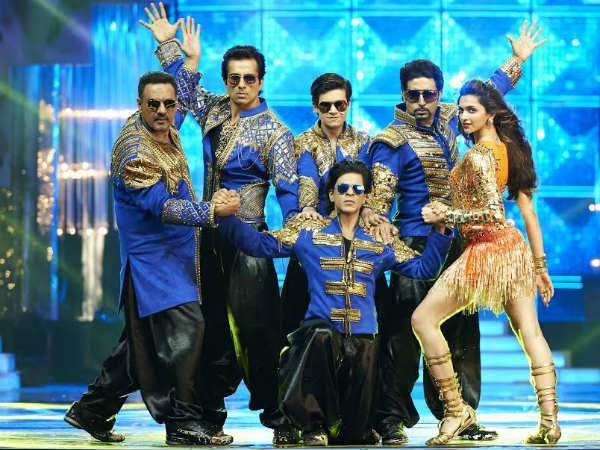 After grossing ₹ 350 crore worldwide, the makers of "Happy New Year" have another reason to celebrate. Leaving behind the harsh criticism it opened to, the screenplay has now made its way into the Library of the Academy of Motion Picture Arts & Sciences.
"Following this honour, the Oscar library will add the screenplay which is accessible to students, filmmakers, writers, actors and others from the field of cinema, for the purpose of research," states a Mid Day report.
Starring Shah Rukh Khan, Deepika Padukone, Abhishek Bachchan, Sonu Sood, Boman Irani and Vivaan Shah, "HNY" witnessed the highest opening in the history of Hindi cinema with a whopping ₹ 44.54 Cr on day 1 but was severely panned by the critics. They found the screenplay loose and unnecessarily stretched, hence, surely this piece of news will leave them reeling in disbelief.
An elated Farah Khan took to Twitter to thank her co-writers Mayur Puri and Althea Kaushal. "1 more reason 2 celebrate!! #HNY script goes to the Oscar library!! Bigg kiss to my co writers @mayurpuri n Althea k," she wrote.
However, this reportedly is not the first time that an SRK film has been selected for the richly populated library. "Devdas" (2002) and "Chak De! India" (2007) have also found a place in the library.
However, for SRK, it is the storytelling that is more important than the awards or accolades it receives. In December 2013, the actor told NDTV that when you relate a story it should entertain the listener.
"I think because we start looking for reasons for storytelling. The reason to tell a story is I just want to tell a story. The reason to tell as story is not ₹ 200 crores, the reason for telling a story is not to cross over. The reason to tell a story is not because I am going to win an award. You tell a story because you want to, it has to be very basic and simple," he said.