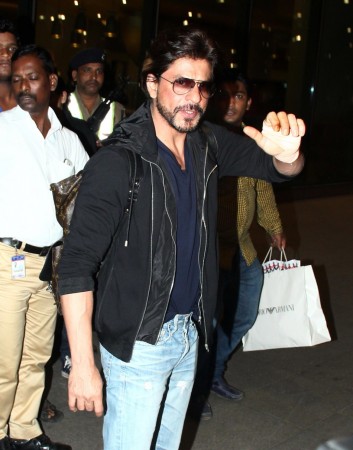 Bollywood superstar Shah Rukh Khan recently underwent a surgery. The "Happy New Year" actor underwent an eye surgery to correct his vision and get rid of his glasses.
SRK took to his Twitter handle to thank the team of doctors who performed the surgery.
"A big thank you to Dr Burjor Banaji & his lovely wife for doing my surgery. It's so good, that now I can read even between the lines," the actor tweeted.
"This is a joke...so some of u don't react to as an anti alcohol group."Now that I don't need glasses I will drink straight from the bottle," he added.
At the moment of vision, the eyes see nothing. William Golding. pic.twitter.com/7ZgUnbtRcU

— SHAH RUKH KHAN (@iamsrk) June 23, 2014
Last year before the release of "Chennai Express," SRK had a lasik surgery at a hospital in Mumbai to get rid of the glasses. However, the women and nurses in the hospital didn't want him to go through the surgery as they felt he looked better in glasses, Filmfare reported.
The recent surgery would be probably SRK's tenth surgery till date. The actor has previously undergone surgeries for knee and shoulder injuries.
Earlier this year, the actor met with an accident while shooting for "Happy New Year" following which reports started doing the rounds that the actor might have to do another knee surgery.
But his physician Dr Ali Irani said that there is no need to worry as the injury is minor.
"Shah Rukh Khan has suffered from 'bone contagion' of his shoulder. We had given him first aid and allowed him to complete his shoot that day. We did various tests. A CT scan and a digital x-ray were done. Along with Dr Sanjay Desai, we examined his injuries and we concluded that no surgery was required. We will allow the bruises to heal naturally, along with physiotherapy, which SRK will have to undergo at least twice a day," Irani told Deccan Chronicle.
In 2013, the actor underwent shoulder surgery twice - first while shooting for "Chennai Express" and second after wrapping up the shooting.
"SRK had suffered an injury during the shooting of 'Ra One.' Doctors had suggested surgery but he has been delaying because of his tight shooting schedule. But the pain was getting unbearable forcing him to go under the knife," a source close to SRK told The Times of India last year.
In 2007, Khan injured his left shoulder while shooting for "Dulha Mil Gaya" along with Sushmita Sen. The injury got aggravated after two years and the actor had to get operated in 2009.