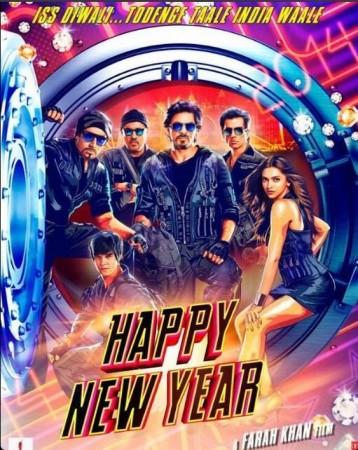 For the first time ever, a film's trailer will be released on a mobile messaging app.
Since the competition is high at the box office, filmmakers are coming up with unique ideas to promote their films and reach out to a mass audience. It is Shah Rukh who always comes up with completely unique and innovative ideas.
After his overseas road plan, SRK has now decided to release the official theatrical trailer of "Happy New Year" (HNY) on WhatsApp on 14 August.
And to get the trailer on your WhatsApp number, fans and users have to register their number with "HNY" team by giving a miscall or by sending a message.
The official Twitter page of "HNY" also posted the number on Saturday evening.
"Give #IndiaWaale a missed call or drop in a #Whatsapp msg on +919819020202 to get the #HNY trailer on your mobile," they posted along with a photo.

"Many calls coming for the trailer on the number we gave. If u can't get thru it's because of multiple calls at the same time. Pls WhatsApp!,"
"Please save our number to Whatsapp today. Tomorrow we will send out a new number for you'll to give us missed calls on! Thanks everyone!"
Earlier, the makers started a huge campaign on the social networking sites Twitter and Facebook to release the film's poster. The actors, including SRK, Deepika Padukone, Abhishek Bachchan, Boman Irani, Sonu Sood and Vivaan Shah and director of the film Farah Khan signed the posters for their fans.
When asked about the unique marketing strategy used by Red Chillies to promote the film, the CEO Venky Mysore told Deccan Chronicle, "Whether it was the first look of the movie at the beginning of the year through one of the biggest Twitter innovations with fans receiving customized posters from their favourite artists, which received close to a Billion impressions as a campaign, or the new innovations with WhatsApp & Twitter for the upcoming movie – 'Happy New Year', our endeavor is to delight the fans."
The instant messaging mobile app has even removed the restriction to send the broadcast message to more than 250 people, in order to help the trailer release.
"The only challenge was the restriction by WhatsApp where a broadcast message cannot be sent to more than 250 friends/WhatsApp users but WhatsApp has specially removed this restriction for this campaign," Mysore added.