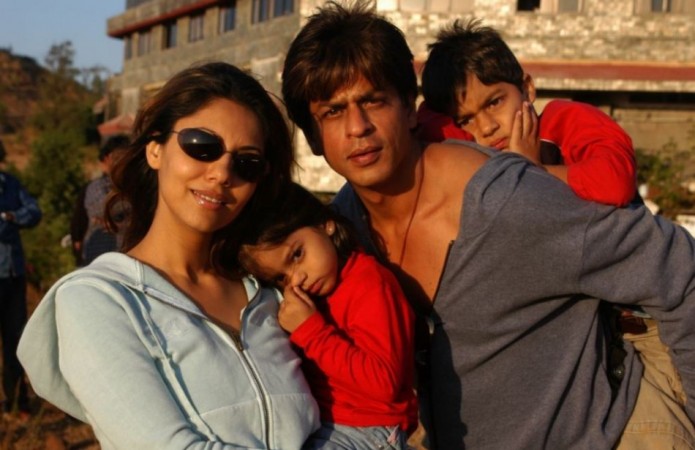 Shah Rukh Khan and wife Gauri may be following the footsteps of the Bachchans, who kept Aaradhya away from the paparazzi.
Khan has always shared photos of his daughter Suhana and son Aryan, but when it comes to AbRam, he seems a bit overprotective. Unlike Suhana and Aryan, AbRam is kept away from the spotlight.
SRK fans are keen to catch a glimpse of the actor's youngest son, but it looks like they have to wait for a long time. The couple wants to keep the newest member of the family away from the media frenzy.
Apparently, Gauri is very protective and caring about AbRam's health as there were some complications when he was born. Gauri now wants to keep AbRam away from evil eyes.
Those who have seen the third child of Khan say that he is very handsome, has dimples like his father and is a perfect star material, Deccan Chronicle reported.
SRK also revealed that he, Suhana and AbRam have one thing in common - dimples.
"Spent the (w) hole day in the company of Craters today. 5 of them. Between Suhana me & AbRam all one can see is dimples on (w)holesale," he tweeted.
Paparazzi had tried clicking pictures of the superstar's youngest son on several occasions but they were not successful. During the opening ceremony of the Indian Premier League season 7, SRK, along with his wife and children, had travelled to Abu Dhabi. Shutterbugs tried clicking pictures of AbRam at the airport, but they could not as he was protected by Gauri and SRK.
Aishwarya Rai Bachchan and Abhishek Bachchan had kept daughter Aaradhya away from the paparazzi, after she was born. It was only during Amitabh Bachchan's 70th grand birthday bash, media and fans got the first glimpse of Aaradhya.
(Ed: VP)