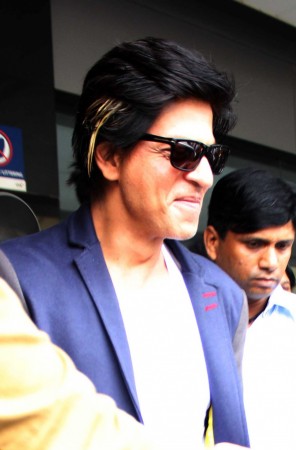 Bollywood superstar Shah Rukh Khan has become the first actor to enter the list of super-rich Indians, with fortune worth $400 million.
Shah Rukh, co-owner of Red Chillies Entertainment, has been ranked as 114th richest Indian, according to the second edition of China-based research firm Hurun India Rich List.
SRK is one of the most successful actors in Bollywood with his last film "Chennai Express" dominating the box office. He is also the co-owner of IPL franchise Kolkata Knight Riders. SRK also endorses some of the top brands like Lux, Nokia and others.
Hunur's list features 141 individuals who have a personal wealth of $300 million and above.
"Despite a sluggish economic growth of around 5%, a good show by the majority of the millionaires/billionaires in the Hurun Rich List 2013 demonstrates the resilience of Indian corporates during these tough times," said Anas Rahman Junaid, Publisher at Large, Hurun Report India.
Reliance Industries chairman and energy tycoon Mukesh Ambani and London-based steel baron Lakshmi Narayan Mittal continue to hold the top two positions in the Hunur's list, with personal wealth of $18.9 billion and $15.9 billion respectively.
Meanwhile, Dilip Shanghvi, managing director of Sun Pharmaceutical Industries Limited, has moved to third position, pushing Azim Hashim Premji, chairman of Wipro Limited, to fourth.
Shanghvi's personal wealth saw a surge of 66 percent - from $8.5 billion to $14.1 billion - this year. Premji, 68, is the richest South Indian and is now at fourth spot, with an asset of $12 billion.
The second edition of the richest Indians list is dominated by men and only four percent of women entered the pick this year.
Steel baroness Savitri Jindal topped the richest Indian woman list for the second time in a row, with a personal fortune pegged at $5.1 billion. Indu Jain, chairperson of India's largest media group Bennett, Coleman & Co. Ltd, is the second female billionaire in the list.
Anu Aga (energy), Kiran Mazumdar-Shaw (pharmaceuticals) and Shobhana Bhartia (media and entertainment) are the third, fourth and fifth richest Indian women respectively, according to Hunur research.
Madhu Kapur, wife of late Ashok Kapur, co-founder Yes Bank is at sixth position in the women's rich list.
Compared to last year, the total wealth of India's Top 100 richest individuals has increased from $221 billion to $250 billion this year. Around five individuals from last year failed to make it in this year's list, though 46 new millionaires made their entry.