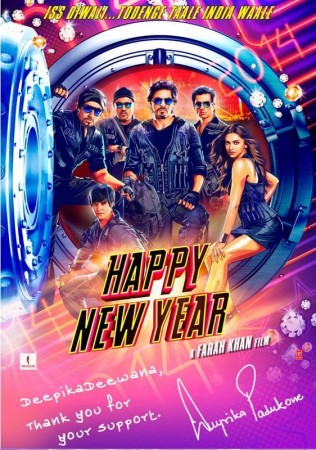 Film promotions and marketing always add up to the production cost, eventually increasing the overall budget of the film. But Bollywood superstar Shah Rukh Khan has planned a promotion strategy that will fetch him around ₹200 crore through his upcoming film "Happy New Year" (HNY).
Shah Rukh has big plans for his upcoming movie "Happy New Year", which is set to release this Diwali. The actor wants to promote his upcoming film in a unique way.
Other producers ask their lead actors or directors to promote the film via interviews and photo shoots or by appearing on television shows and visiting malls. But SRK has a completely different plan for "HNY".
As reported earlier, the King Khan has planned for road shows with his co-stars including Deepika Padukone, Abhishek Bachchan, Sonu Sood and Boman Irani and director Farah Khan to promote the film in the international market.
And for that he has asked his co-stars to keep two months completely free. The "HNY" team will travel in countries and do the road shows. In August, they will do the rehearsals of the shows in SRK's office, according to Mumbai Mirror.
The dates for the shows, which will take place in the UK, US and Canada, have already been allotted.
"The cast agreed to the arrangement as SRK will pay them over and above their acting fee. Around 140 professional dancers will also be hired. It's an ambitious venture which aims to be even bigger than the Temptations Reloaded concert tour," a source close to the production house told Mumbai Mirror.
The shows will be organised by the same company that had planned Temptations Reloaded concert tour last year. After the announcement of SRK's road shows, several local show organisers in the US and Canada have reportedly cancelled their plays, which was expected to happen during the same time of the year.
After the international tour, "HNY" team will do the shows in India ahead of the release. Around 25-30 shows are expected to take place worldwide. Each show is expected to earn approximately ₹7 crore.
"There will be around 25-30 shows and each is expected to fetch SRK ₹ 7 crore. Going by this calculation, they could add almost ₹ 200 crore to the kitty even before the film opens in the theatres," the source added.