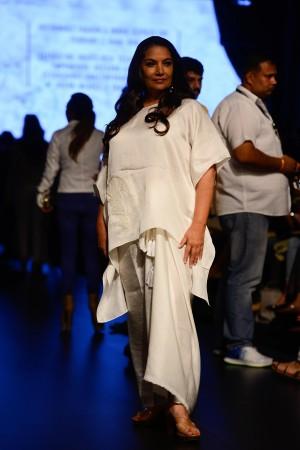 Veteran actress Shabana Azmi who is an admirer of art has expressed her thoughts at the apparent lack of appreciation for art in our society. Shabana Azmi was interacting with media at the Odisha Triennial of International Art (OTIA) on Saturday, July 21, in Mumbai.
Talking about how art is important to the nurture of human beings, Azmi said, "I think any form of art plays an important role in our society to shape a human being, to form his point of view and to make him a complete human being but we don't look after that aspect of art."
I think we should give encouragement and patronage to the arts. From school days, we should introduce different kinds of art forms to children because when you get an exposure then only your imagination becomes more vibrant.
When asked whether artists should also have their unions to address their issues in a united manner, the 67-year-old actress said: "I think that matter should be decided by artists themselves and I can't participate in that.
"In our film industry, we have cine artists union, producers union and director's union so, they have to decide themselves."
After watching "Dhadak", Shabana Azmi posted an emotional message on her social media account which read: "#Sridevi wish you were here to watch your daughter #Janvhi's debut. You would have been so proud. A star is born", giving her reaction after watching 'Dhadak'.
Odisha will play host to what is billed as India's first private sector triennial in December-January that will see the convergence of artists from the national and international scene during the 40-day mega event. There will also be a series of seminars involving experts and scholars from the fields of films, theatre, art, music, performance and new media art.
Named as Odisha Triennial of International Art (OTIA)', the event will take place in Bhubaneshwar, Puri and Konark.