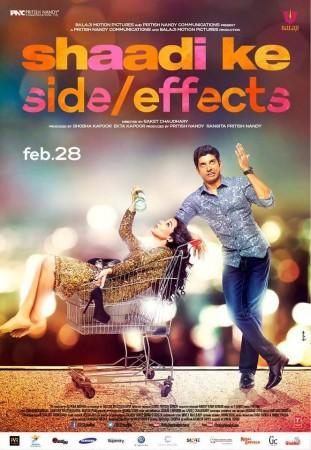 Saket Chaudhary's directorial film "Shaddi Ke Side Effects" has mostly received positive reviews from critics. The film which stars Vidya Balan and Farhan Akhtar in lead roles will release on 28 February.
Vidya and Farhan's pairing in the film has received thumbs up from critics. The film which is a sequel to "Pyaar Ke Side Effects" deals with issues and events that happen after marriage.
The film also features Ram Kapoor, Vir Das, Gautami Kapoor, Purab Kohli, Ila Arun and Rati Agnihotri in important roles.
Check out what critics have said about the film:
It's interval n wah wah wah what a romance, chemistry n pairing of Uncle Farhan Akhtar n Aunty Vidya Balan Ji. Superb. #ShadiKeSideEffects

— KRK (@kamaalrkhan) February 27, 2014
Taran Adarsh of Bollywood Hungama said: "SHAADI KE SIDE/EFFECTS is more about rediscovering your partner, post marriage. Given the nature of the subject, there looms the risk of the film veering into a serious zone, but Saket makes sure he peppers the plot with humor and amusing episodes, so much so that you never stop smiling even when the on-screen couple have their share of problems or get into a spat over a trivial issues.
"A rom-com essentially, Saket handles the light moments as well as the dramatic ones with dexterity.
"On the whole, SHAADI KE SIDE/EFFECTS is a delicious take on contemporary relationships. This one's relatable, heart-warming, amusing and thoroughly enjoyable!"
Madhureeta Mukherjee of The Times of India said: "He says it. She disagrees. He reacts. She overacts. He makes mistakes, he says sorry. She makes mistakes, 'he' says sorry. So there! Even geniuses like Socrates and Einstein couldn't crack a fool-proof plan to a 'happy marriage'.
"The director strikes a fine balance between humour and emotion in this slice-of-marriage story. The first half takes a while to catch up, but the dialogues (Arshad Sayed) provide ample laughs, while giving wisdom for wedded bliss. Vir Das in his funky avatar is a riot. Vidya is brilliant and hits a high note in the emotional scenes. The film belongs to Farhan who stuns you with his straight-faced witticisms and plethora of expressions that amuse and move dramatically.
"Single or married, this film will have more of a 'special effect' than 'side effect' on you."
Subhash K Jha in his review said: "The script is written entirely from the male point of view. And if there are any doubts on the film's mildly misogynist tone, then there is Farhan's voiceover to remind which side of marriage the script is on.
"A warm, funny, thought-provoking take on the man-woman equation, director Saket Chaudhary gets it bang on. The chemistry between Farhan and Vidya crackles and hisses with tantalising tension. Brittle and yet supple, the lead pair's chemistry irons out the film's uneven edges. I wish the peripheral characters were written and played better."
"Nope. You can't take your eyes off Farhan and Vidya. They look evenly matched and entirely yummy in their yin and yang yearnings. You do wonder why the script takes them to Australia. But then marriage does make people do strange things, right?
Deepanjana Pal of Firstpost said: "If you've seen Chaudhary's first film, Pyaar Ke Side Effects, and the trailer to Shaadi..., which shows a cool husband and his nagging wife, then the expectations would be different. It turns out that Shaadi... falls smack in the middle. It has some genuinely quirky moments, but it's also half-baked, juvenile and completely lacking in insight.
"Despite having two actors who are happily married in real life, what Shaadi... gives us is a portrait of a resoundingly unhappy marriage between two people who have just one flash of passionate chemistry right at the start of the film. After that, it's just unhappily ever after."
Prasanna D Zore of Rediff.com said: "Shaadi Ke Side Effects (SKSE), written and directed by Saket Chaudhary, who also helmed Rahul Bose-Mallika Sherawat starrer Pyaar Ke Side Effects, opens on this contrived note and meanders for an over-stretched 145 minutes, full of twists and turns, that one has come to so famously associate with soaps produced by Balaji.
"Nobody, though, is trying to take away the moments in SKSE that make you empathise with the ups and downs faced by Siddharth and Trisha but it is more so because Akhtar and Balan make them seem real with their sincerity.
"Surely, Akhtar and Balan, two of the finest actors in contemporary Bollywood, need to be applauded for pulling off SKSE without giving you any side effects once the credits begin to roll."