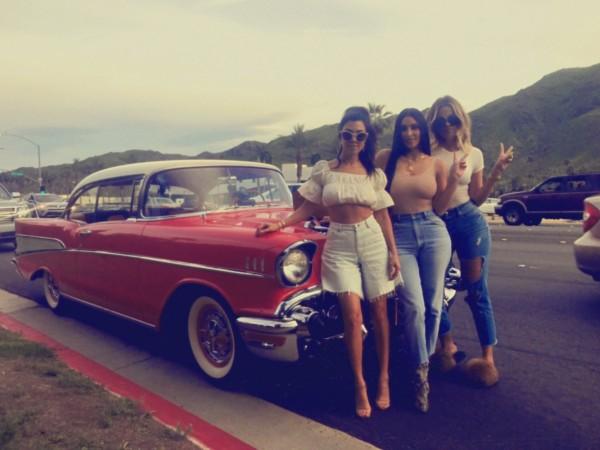 The Kardashian sisters certainly know the art of Road TRiPPiN!
Kim, Kourtney and Khloe Kardashian recently hit the road in a red vintage Chevrolet Bel Air convertible to visit Palm Springs, California.
Also read: Kylie Jenner follows Kim Kardashian's footsteps; becomes new belfie queen
While Khloe was behind the wheel, Kourtney took the responsibility to update the fans on Snapchat.
The Revenge Body queen wrote on Snapchat: "Kourtney thinks it's funny to change next to me. She's the worst driver ever!" Khloe said on Snapchat. "She just keeps taking her clothes off in the backseat. She pulled over the change out of jeans into sweats."
Khloe Kardashian was spotted wearing a white T-shirt and ripped jeans while Kim donning a nude tank top and jeans. Kourtney was seen wearing a denim jacket over a white crop top.
The trip photos show that the reality TV stars took a moment to pose under the giant dinosaur statues in Cabazon.
Besides everything, the thirteenth season of the reality show Keeping Up With the Kardashians premieres on March 12.