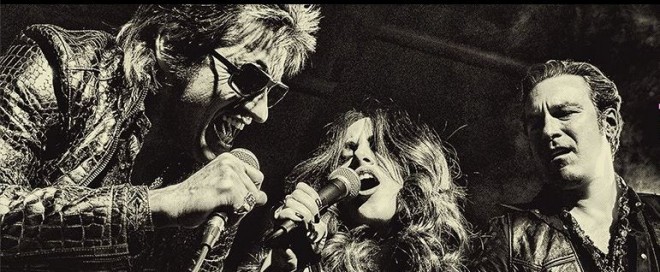 Denis Leary's brainchild "Sex&Drugs&Rock&Roll" will premiere on FX on Thursday, 16 July, at 10.00 pm (EST). An unlikely comedy, it promises a great ride that combines family drama, fame chasing and great music.
Leary acts as the creator/writer/producer/star of the show and therefore, it is greatly influenced by his view of musicians, bands and family. Leary told the crowd gathered at Hall H for the San Diego Comic Con 2015 panel, "I grew up in the '70s when there was shitty music. The songwriters and the musicians were falling asleep, and there were stupid haircuts. Bowie got me through 1970 until the Ramones showed up."
Leary speaks about how he would watch band members fight behind the stage during musical events but never actually break up, almost like a family that fights bitterly but never gives up on each other. These fights between bandmates are what inspired Leary to write the show.
In the series, Leary plays Johnny Rock, lead singer of The Heathens, the fictional band that went down in history as the band that split the quickest. The heathens also had Flash (John Corbett) as the guitarist and sessions musician Bam Bam (Robert Kelly) as the drummer and Rehab (John Ales) as the bass player. Johnny's long-time girlfriend and moral compass Ava (Elaine Hendrix) is also an integral part of "Sex&Drugs&Rock&Roll".
The star of The Heathens is, however, none of them; in fact, it is not even a band member. The star singer who will hopefully make The Heathens famous is Johnny's daughter Gigi, played by Elizabeth Gillies, who is all grown up since her Nickelodeon tenure.
All the musical performances were performed by the actors themselves. The commitment will definitely pay off when the show goes on air.
Watch out for the series premiere of "Sex&Drugs&Rock&Roll" on 16 July on FX.