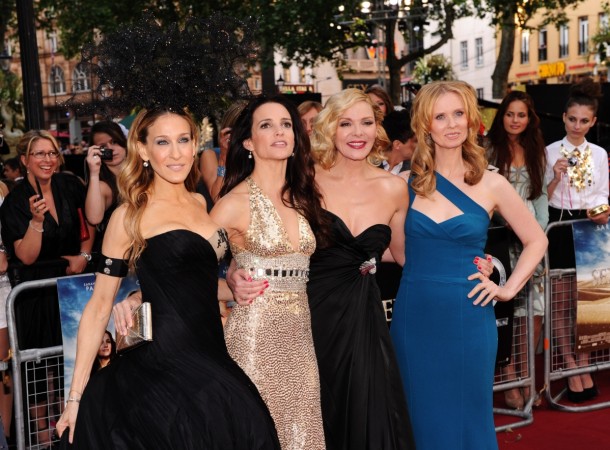 Over the past few months, a series of negative reports have been emerging with regard to Sex and the City. After Sarah Jessica Parker announced that the third edition of the film has been shelved, numerous reports surrounding the reason behind hinted that Kim Cattrall was to be blamed.
The cat got out of the bag soon after and the cast feud – especially between the Samantha and the Carrie actress – made headlines and in no time, the world knew that things were sour between the two. The last nail in the coffin was hit by Cattrall when she took to Instagram to slam SJP for her condolences over the death of the former's brother.
Also read: Nicole Kidman replaces Kim Cattrall as Samantha in Sex and the City 3?
She posted a note reading: "I don't need your love of support at this tragic time @sarahjessicaparker" and captioned the image: "My Mom asked me today "When will that @sarahjessicaparker, that hypocrite, leave you alone?" Your continuous reaching out is a painful reminder of how cruel you really were then and now. Let me make this VERY clear. (If I haven't already) You are not my family. You are not my friend. So I'm writing to tell you one last time to stop exploiting our tragedy in order to restore your 'nice girl' persona."
The shocking lash came days after Kim thanked her Sex and the City colleagues for their support. This gesture may have helped Kim express her disliking towards her Sex and the City co-star but she is not creating a good image among her fans.
Following the nasty post, fans took to the comments section to slam the actress. While many refused to take sides in the whole feud, they did speak out against Kim's act.
Comments read:
Wow nasty!!! Makes you look like a child !!! Used to think you were great but not so much now sadly
Did your mom by chance say anything about being the bigger person?....No?
You aint got the right to destroy a whole generation dreams about friendship. You guys made us believe about women empowerment through almost 20 years. Are you freaking serious?! Stop this stupid ego wannabe war. 'Sex and the city' is the story of million people lives. STOP KIM. And of course, sorry for the loss. And I love you.
Just because you guys aren't friends now doesn't mean you need to be a twat to her for supporting you through a hard time. All you really had to do was ask her 1v1 not to "exploit" your tragedy or use this incident to get back her good girl persona.
Several followers also came out to defend the star:
I would never talk to someone who was tying to be nice to me during a grieving time no matter who they were.
Wow, have some respect for someone who is grieving people! Maybe she has been treated poorly, and she's at her limit and is repulsed by the virtue signaling fake 'sending love BS'. Maybe SJP was sincere. And only had kind intentions. Maybe not. If anything the fact they didn't get along shows how good they are at their job, as Samantha and Carrie had great chemistry. But that's fiction. What isn't fiction is that this woman has lost a loved one and it's raw and it's hell. She's been slated on social media and now is defending herself and rejecting what she perceives to be insincere public messages of sympathy. Give her a minute without calling her immature or disgusting. She's in an unbelievable amount of pain and lashed out at someone's insincerity (or what she believes is insincere). The high road has a better view, but sometimes people lose their sh*t.
What do you think about her reaction?