Marvel Studio has several things to rejoice about. The studio recently received raving reviews from critics for Black Panther and Avengers: Infinity War trailers have got fans counting down days towards its release. And now, to add another feather, Marvel Studio celebrates 10 years of the cinematic universe.
Yes, it has been 10 years since the MCU began its journey with the release of Iron Man. To commemorate the milestone, many cast members from Marvel movies came together and took fans down through the memory lane. During the same, the studio also teased a few moments from Avengers: Infinity War.
Also read: 'This' Marvel character made Captain America's new shield? [Spoilers]
The video began announcing a contest for fans. While revealing the prizes participants are up for, Marvel slide in numerous Avengers: Infinity War clips teasing the upcoming summer release.
All the footage featured were behind-the-scene, revealing no plot spoilers, but giving fans a look into the Avengers movie. The short clips featured Elizabeth Olsen preparing for a fight sequence in the movie, while Chris Pratt, dressed in his Star-Lord attire, swinging from one end to another on a wire rig with a gun in his hand.
The video also teases Captain America's nomadic look – as seen in the trailers – swinging a weapon during the filming. But the highlight of the video is the stone studded Infinity Gauntlet. The BTS shows the prop with more stones than it has ever been seen before.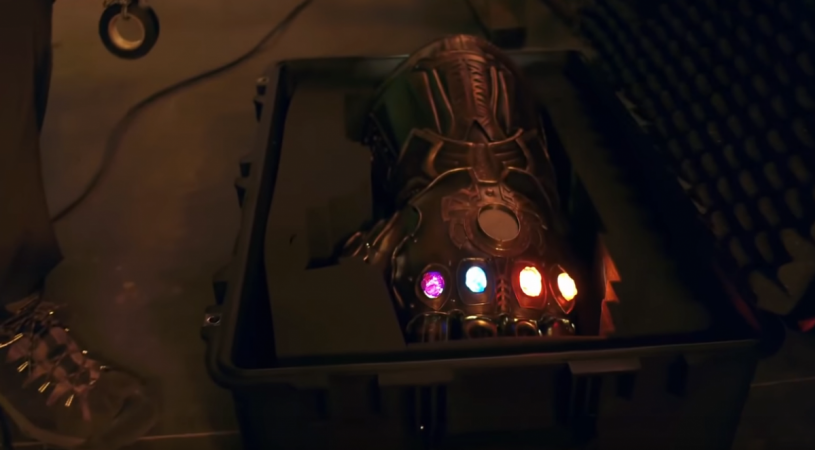 A clear image provided by Marvel features four gems as compared to the two seen in Infinity War's first trailer. Fans can see that the Power and Space Stone are now placed next to the Mind Stone and Reality Stone. But the Soul Stone is still hiding.
Apart from the teasers, fans also pointed out that numerous Marvel characters did not make it to the shoot. Fans were upset that actors like Josh Brolin, Tom Hiddleston, Bradley Cooper, Cate Blanchett, Lupita Nyongo, Zendaya, Marissa Tomei, Natalie Portman, Tilda Swinton and Rachel McAdams were missing from the shoot.
Actors, directors and other film executive who were part of the shoot included Robert Downey Jr., Chris Evans, Chris Hemsworth, Mark Ruffalo, Scarlett Johansson, Paul Rudd, Benedict Cumberbatch, Chris Pratt, Chadwick Boseman, Zoe Saldana, Angela Bassett, Jon Favreau, Gwyneth Paltrow, Sebastian Stan, Ty Simpkins, Michael Douglas, Michelle Pfeiffer, Hayley Atwell, Pom Klementieff, Benedict Wong, Michael Rooker, Vin Diesel, Cobie Smulders, Samuel L. Jackson, Jeff Goldblum, Kevin Feige, Stan Lee, Scott Derrickson, Alan Taylor, James Gunn, Joe Russo, Anthony Russo, Joss Whedon, David Grant, Mitchell Bell, Anna Boden, Ryan Fleck, Ryan Coogler, Jeremy Latcham, Nate Moore, Christopher Markus, Stephen McFeely, Taika Waititi, Erik Carroll, Ryan Meinerding, and Craig Kyle to name a few.