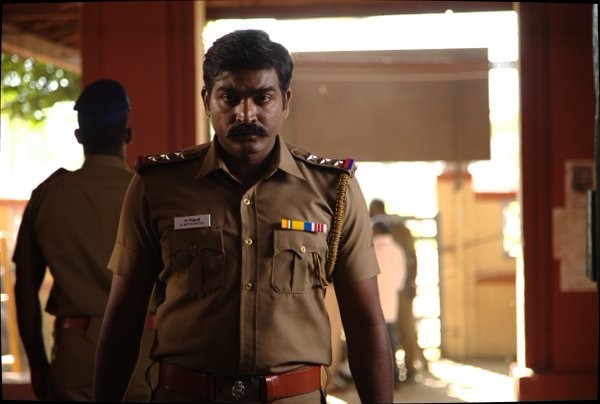 Vijay Sethupathi-starrer "Sethupathi" has opened to highly positive reviews from the audience and critics. The film is written and directed by SU Arun Kumar, who had earlier directed the actor in "Pannaiyarum Padminiyum."
5 Reasons to Watch 'Sethupathi' | 'Miruthan' Movie Review | 'Navarasa Thilagam'
Remya Nambeesan will be seen as the female lead in the movie. This is the second time she is teaming up with Vijay Sethupathi, the first being "Pizza." The latest Tamil film has Nivas K Prasanna's music, Dinesh Krishnan's cinematography and S Sreekar Prasad's editing.
The actor is returning after his hit film "Naanum Rowdydhaan." He has been seen mostly in romantic and comic roles. However, "Sethupathi" is entirely different from his previous films: It is an out-and-out action movie where the actor plays the role of a cop for the first time.
The teaser of "Sethupathi" had impressed viewers. Vijay Sethupathi's khaki-clad look was especially appreciated by the audience. The audio, too, has played its role in drawing people's attention. His fans hope the good pre-talk will help the movie get good opening at the box office and the latest film gives him much-needed image makeover.
Average Audience Ratings to the film: 3.5
Set in a rural backdrop, "Sethupathi" has a realistic cop story sans the usual cinematic elements. In some parts, the film tries to portray some common issues faced by police officers on a daily basis. The tough cop Sethupathi (Vijay Sethupathi) locks horns with the powerful baddie Vaathiyar (Vela Ramamoorthy) while he investigate the death of a cop from a different police station. Their interesting battle remains the best part of the story.
Reviews:
The audience have praised the screen presence of Vijay Sethupathi to heavens. Without going overboard, the actor has apparently delivered a brilliant performance. His chemistry with Remya works well. The cliches of usual cop films are not seen in this film, and this has been appreciated by viewers. Last, but not the least, the screenplay remains the highlight of the Tamil flick. Here, we bring you the live audience response to the "Sethupathi":
ChristopherKanagaraj ‏tweeted: Showtime #Sethupathi
#Sethupathi | Good 1st half with an interesting interval block Vijay Seth is superb as a 'gethu' cop and family man, Roamntic scenes r gud
#Sethupathi | Gud 1st hlf, Decent 2nd hlf.. Not happy with d quick Ending.gud music.Vijay sethupathy - One man show.Good watchable movie!
Haricharan Pudipeddi posted: #Sethupathi interval. #VijaySethupathi's cop avatar is a treat to watch. Select great moments make the first half very, very engaging.
Move aside #Singam because #Sethupathi is here. Easily the coolest cop in Kollywood. Loved the movie. Hat tip to dir Arun Kumar.
#VijaySethupathi proves once again he's no one film wonder and can outperform himself with every new role. He's terrific in #Sethupathi
It's terrific how dir Arun Kumar manages to make #Sethupathi a pucca commercial entertainer yet keeps it classy. He's here to stay.
Besides Arun Kumar and #VijaySethupathi, other major star of #Sethupathi is music dir Nivas Prasanna, a talent to watch out for. Great BGM
Enough of me raving about #Sethupathi. Go watch it :)
Narayanan posted: #Sethupathi 1st half - Engaging.#VijaySethupathi fits cop role well.Scenes,songs wth family good.Interval block big surprise
#Sethupathi - Nivas Prasanna songs,BGM biggest +ve.Lot f scenes fr family audience.Perfect launchpad fr #VijaySethupathi into mass movies
#Sethupathi -#VijaySethupathi's one f diff performance for a commercial film.Loved his attitude.#RamyaNambeesan and kids done their part wel
Vignesh Kandaswamy wrote: #Sethupathi - Felt like the investigation portions could have been much detailed. Anyways not a big minus so far.
#Sethupathi - Songs are good. Inconsistent BGM could have been dealt with. So far so good screenplay. Hoping for a similar 2nd half.
#Sethupathi - VJ Sethu and Ramya Nembessan chemistry impresses a lot. Only few comedy portions but clicks well.
#Sethupathi - Director Arun once again shows the family emotions and love in a very much relatable way like Pannaiyarum Padminiyum. Kudos
#Sethupathi 1st half - Good. VJ Sethu stealing the show as a Pucca police & family man. Good sequence towards the interval ups the ante.
Rajasekar tweeted: #Sethupathi - The family bonding in a cop's family has been showcased beautifully with an unexpected twist in the interval.
#Sethupathi first half - a different cop film. Vijay Sethupathi steals the show with his one liners and some well written mass moments.
#Sethupathi - loved @nivaskprasanna 's score in #Sethupathi . Great job brother, elevated the mass moments to a different level!
Kannan tweeted: #Sethupathi 1st half - Quite good with some terrific moments! #VijaySethupathi totally rocking as stylish & sincere cop.
#Sethupathi - Commercial cop flick with neat screenplay and superb execution with action, romance & family touch. Go watch it! (7.5/10)
#Sethupathi - Vijay Sethupathi aces police role with fantastic screen presence! Remya Nambeesan & Vela Ramamoorthy too have their moments!!
#Sethupathi - The film looks super slick, thanks to Sreekar Prasad's fine editing & Dinesh's camera work. Nivas Prasanna music sounds fresh!
Kaushik LM wrote: #Sethupathi 1st half ends with an intriguing scene. Equal screen time for the cop's family life and his core case. #VijaySethupathi looks
#Sethupathi 1st half, #Remya looks gorgeous as the housewife with 2kids. Family scenes shown with gud songs. Dir Arun has a fine sensibility
#Sethupathi - Super entertaining 2nd half. Heroism works grt. One-upmanship battle between the cop and villain. Nice film. Go watch
#Sethupathi -Arun Kumar dishes out an engaging police story where the cop's family angle is prime too. He shows good variety in his 2nd film
#Sethupathi - #VijaySethupathi looks terrific and is very apt as the cop-family man. Grt chemistry with #remya and his 2 kids. A big win
Ramesh posted:#Sethupathi [3.5/5]: Writer / Dir #ArunKumar makes a fine Cop movie without commercial compromises and still it's Mass + Class.. RECOMMENDED
#Sethupathi [3.5/5]: DOP #DineshKrishnan gives a diff color tone 2 da movie.. It enhances.. Editor #SreekarPrasad makes sure there is no lag
#Sethupathi [3.5/5]: Music Dir #NivasKPrasanna 's BGM score is Mersal.. Lot of credit to him for the Mass scenes.. Hey Mama song is super..
#Sethupathi [3.5/5]: #RemyaNambeesan fits perfectly as #VjSethu 's wife and the mother of two kids.. #VelaRamamoorthy as the villain is A+..
#Sethupathi [3.5/5]: #VijaySethupathi brings his own style to the Cop act.. Ably supported by Dir #ArunKumar - he is a treat to watch..
#Sethupathi [3.5/5]: It's a multi-layered film..A perfect mix of Action, Investigative Thriller, Family Sentiments, Subtle Humor + Top Actin