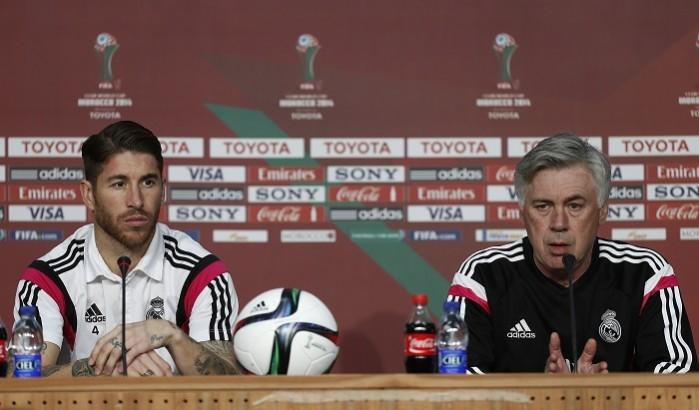 Real Madrid vice-captain Sergio Ramos has defended manager Carlo Ancelotti, insisting that they Los Bancos are a much better team under him, then they were under former boss Jose Mourinho.
The 55-year-old, who replaced Mourinho in the summer of 2013, managed to help the club win the Copa del Rey and their first Champions League title since 2002 during his first season at the Bernabeu.
However, Real Madrid have not been doing very well this season and Ancelotti has come under a lot of criticism, leading to suggestions that he may be sacked by the club this summer.
Still Ramos has defended Ancelotti, insisting that the Italian is one of the "best coaches" he has ever worked under.
"I maintain that Ancelotti is one of the best coaches I have ever had," Sergio Ramos told Spanish Radio network Cadena SER. "There is no way to differentiate between him and Mourinho."
Although Mourinho also achieved a lot of success at the Bernabeu, breaking a lot of records in Spain as the Los Blancos lifted the La Liga title in 2011/12, Ramos feels that Real Madrid are a better side under Ancelotti.
"I think we are a better team now than under Mourinho in all aspects of the game. I think this is clear to see for all - for both fans and journalists," he added. "I don't like this injustice, where one coach gets all the credit, whereas the other doesn't get recognition."
"I go by with what I have experienced, not by what I have been told. It suffices to look at what he has won here and how long it took."
Meanwhile, Real Madrid have announced that they will be taking legal action against the fans who attacked Gareth Bale and Jesse Rodriguez's car, following the Los Blancos' defeat at Barcelona on Monday.
"Real Madrid will take any applicable legal action against the individuals responsible," read a statement on the club's official website.
One of the three miscreants involved in the incident on Monday has been identified as a club member, and the club have stated that they will be taking some stern action against him if he is found guilty.
"This afternoon, the Discipline Commission held an emergency meeting and decided to open a disciplinary investigation and provisionally suspend the individual's rights as a member and access to the Santiago Bernabéu or any Real Madrid facilities," added the statement.
Furthermore, the club have stated that the "identities of the individuals responsible" have been forwarded to Spain's National Anti-Violence Commission so that they can take some strict action against them.
"Real Madrid has notified Spain's National Anti-Violence Commission of the incidents that took place, as well as the identities of the individuals responsible, requesting that it apply those sanctions that it considers appropriate."