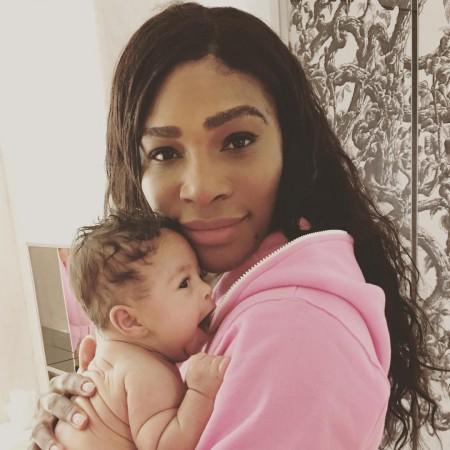 Serena Williams is heartbroken! And the reason behind it will probably break your heart too.
The tennis icon took to Instagram to share the story of her current distress, as she posted the most adorable photo of her new born daughter, Alexis Olympia, in an attempt to discuss with fellow mothers the "devil" of every child's developmental process – teething.
Also read: Serena Williams and Alexis Ohanian fairy tale wedding photos will leave you speechless
That's right, the three-month-old has been having a rather troubled time, seemingly, and it has been stressing her grad slam champ mother out to exponential heights, which she detailed on the photo sharing app.
The 36-year-old new mommy captioned her photo of Alexis in a Versace bib, writing: "Teething- aka the devil - is so hard. Poor Alexis Olympia has been so uncomfortable. She cried so much (she never cries) I had to hold her until she fell asleep.
"I've tried amber beads... cold towels.... chew on mommies fingers.... homeopathic water (lol on that one) but nothing is working.
What followed that was a desperate plea for tips and tricks from all the fellow mothers who follow her on Instagram, as she mentioned she was extremely "stressed" and that "It's breaking my heart. I almost need my mom to come and hold me to sleep cause I'm so stressed. Help? Anyone??"
And sure enough, Serena's followers were both prompt and kind enough to pay heed to her queries and drop their own personal suggestions in the comments section.
One of them wrote: "[sic] Dummy in icecube tray with breastmilk - ice pop our 4 mth old loves it for the same reason."
Another one claimed, "[sic] Orajel is magic." She also followed it up with a kind message, saying: "Hope she gets better soon. Hugs to you also, it's hard to see the babies cry."
Well – as it turns out, not all superheroes wear capes, and supermoms are, after all, humans too!
Serena welcomed her first child back in early September and even though the exact date hasn't yet been revealed, she had decided to share the happy news with her social media followers on September 13.
Shortly after, she tied the knot with her long-time beau Alexis Ohanian, the father of her baby.