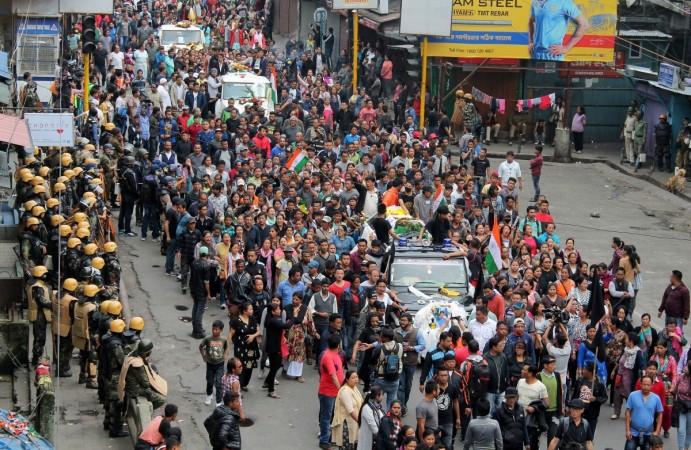 While West Bengal Chief Minister Mamata Banerjee and Gorkha Janmukti Morcha (GJM) supremo Bimal Gurung wrestle it out over Gorkhaland, the state's BJP added fuel to the controversy, thanks to a controversial remark made by state chief of the saffron party, Dilip Ghosh.
Speaking in Alipurduar in North Bengal, Ghosh said though the BJP has reservation over the name 'Gorkhaland', it is in favour of smaller states in principle.
The ruling Trinamool Congress (TMC) along with the Left and Congress blasted Ghosh for his remark. Even a section of Bengal BJP has criticised the chief for what he said.
Ghosh said they were not okay with the name 'Gorkhaland' because they feel a state cannot be named after an ethnic group. He said other such groups will raise identical demands and they could not be found at fault. But does it mean that the BJP is in favour of bifurcating Bengal if the statehood movement assumes some other name? Ghosh averted this question saying it is something for the Centre to decide.
BJP in a spot over Gorkhaland all the more since the Darjeeling MP belongs to it
There is no iota of doubt that the BJP is in quite a spot over the Gorkhaland agitation, especially after the region has turned into a zone of fire over the last few weeks. The matter has worsened for them since the MP from Darjeeling is from their party and they had made electoral alliance with the GJM in the past. These factors have made them morally bound to take a stand on the issue and they have been dilly-dallying for obvious reasons.
The BJP is known to favour smaller states. It was during the rule of Atal Behari Vajpayee when the small states of Uttarakhand (Uttaranchal earlier), Jharkhand and Chhattisgarh were formed. So, it is quite expected that the party would take a decisive stand on Gorkhaland agitation as well and with the Centre under the rule of the NDA, the expectation has become even bigger.
On Saturday, June 24, a top official of the National Federation for New States which held a session in New Delhi threw a question for the BJP asking for its clear stand on the burning problem of Gorkhaland.
For Gorkhaland or against it? BJP has no clear answer
The pressure was thus always building and Ghosh's controversial remark made it evident that the BJP has no sound answer to the question. If the BJP backs the movement, its chances of making a strong political impact in West Bengal in future elections will receive a body blow since people will perceive it as a party which acts divisively.
With its prestige battle with Banerjee reaching a climax, it would be suicidal. On the other hand, if it doesn't fulfil the aspirations of the GJM, its position in Darjeeling, from where it has won back-to-back parliamentary elections, will be considerably weakened. Banerjee.s TMC, which is making serious inroads in the Hills, will be at an advantage in that case.
Ghosh should have kept silent instead of making an irresponsible remark
This problem has been exacerbated by Ghosh's reckless remark, which has been negated even by his predecessor Rahul Sinha. Ghosh's words will add more fuel to the fire, just like Sikkim Chief Minister Pawan Chamling's comment favouring a separate state has.
Ghosh should have kept in mind that the question of Gorkhaland is not like Chhattisgarh or Jharkhand which were curved out of more homogenous states. A separate Gorkhaland can jeopardise India's internal as well as external security and put the Centre ruled by his own party in a serious danger.
But having said that, this is what India's mediocre political leadership is capable of. Speak irresponsibly and then put the ball in somebody else's cour to find a solution.