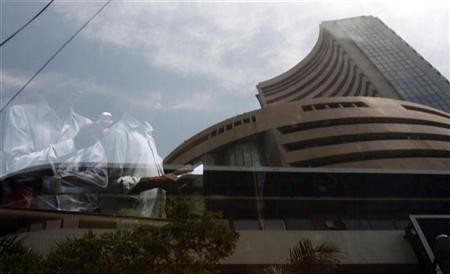 Indian stock markets advanced for the first time in five days on Thursday, with Sensex surging more than 400 points, helped by gains from metal and oil & gas sector shares.
The benchmark BSE Sensex surged 2.27 percent, or 407.3 points, to 18,312.94. The 50 share NSE Nifty gained 2.01 percent, or 106.65 points, to 5,409.20.
Markets opened on a subdued note, tracking negative cues from Asian peers. Both Sensex and Nifty declined more than 0.7 percent in the morning trade as the Indian rupee plunged for the sixth straight session and touched a new historic low of 65.56 against the US dollar in early trade.
"Unless growth signals emerge in the next few quarters, FIIs (foreign institutional investors) will continue to pare down Indian equities, which will weigh on the rupee," Deven Choksey, managing director of KR Choksey Securities, told Reuters.
However, markets later recovered and entered into positive territory, helped by a rally in metal and oil & gas sector shares. The rupee also recovered from its all time low after the Reserve Bank of India (RBI) is believed to have intervened in the forex market to stem the currency fall.
All the 13 BSE sectoral indices ended with gains except the realty sector. The metal sector rallied 7.84 percent and oil & gas sector climbed 3.43 percent, while PSU sector advanced 3.10 percent and IT sector rose 2.70 percent.
The overall market breadth is positive with 1283 advanced against 982 declines on the BSE.
Asian stock markets mostly ended lower on Thursday as sentiment was dampened after the minutes from the Federal Open Market Committee's (FOMC) July policy meeting which was released on Wednesday suggested that the Fed could trim its massive monthly asset purchase programme as early as September.
Japan's benchmark Nikkei 225 declined 0.44 percent and Hong Kong's Hang Seng gained 0.36 percent, while South Korea's KOSPI fell 0.98 percent and China's Shanghai Composite slipped 0.28 percent.
Meanwhile, a private survey showed that China's manufacturing activity rebounded in August. The HSBC Flash Purchasing Managers Index (PMI), a measure of the nation-wide manufacturing, rose to a four month high of 50.1 in August from 47.7 in July. A reading above 50 indicates expansion from the previous month, while a reading below 50 indicates signifying economic contraction. The index crossed the 50-level for the first time in four months.