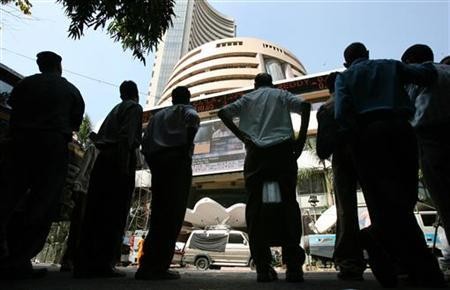 Indian stock markets plunged on Monday in line with a global rout, as concerns over debt-ridden Greece defaulting on its repayment and exiting from the currency zone grew.
The benchmark Sensex index fell about 550 points or 2% to trade at 27,259.02 points, erasing most of the gains it witnessed last week.
Sell-off in auto and IT stocks was stronger compared to other sectors, owing to their significant exposure to the eurozone.
Auto stocks such as Tata Motors, Bharat Forge and Motherson Sumi have a major presence in the eurozone, while Tech Mahindra, Wipro, HCL Tech and Tata consultancy Services (TCS) are the IT companies that derive a major part of their revenues from the region.
While Tata Motors fell 3%, Bharat Forge was down over 5% in the auto sector. In IT, Tech Mahindra, TCS, HCL Tech and Wipro were down in the range of 1-2%.
Domestic stock markets also took cue from falling stock markets across Asian region. Stock markets in China, Japan and Hong Kong slumped nearly 3%, as worries intensified over precarious financial system in Greece.
"The turmoil in the global currency and equity markets could hurt Indian markets in the short term," TS Harihar, chief executive and founder of HRBV Client Solutions Private, told NDTV Profit.
Over the weekend, Greek officials failed to reach an agreement with creditors to avoid a default. The financially troubled nation must repay a sum of $1.8 billion to the International Monetary Fund (IMF).
On Sunday, Greece announced closing of its banks for a week to stem intensifying capital flight from them. Greek banks will be shut until 6 July.
It also restricted the amount to be withdrawn from ATMs to to 60 euros ($65) a day in the week.
International lenders have been pressing Greece to initiate more reforms in order to receive additional bailout funds. The creditors have bailed out Greece two times so far, lending around 242.8 billion euros ($271 billion) to the country, according to Reuters.
Further, Greece has announced for a referendum on 5 July, asking its citizens to decide on terms set by its creditors. A no vote in the referendum could increase the possibilities of Greece leaving the eurozone.