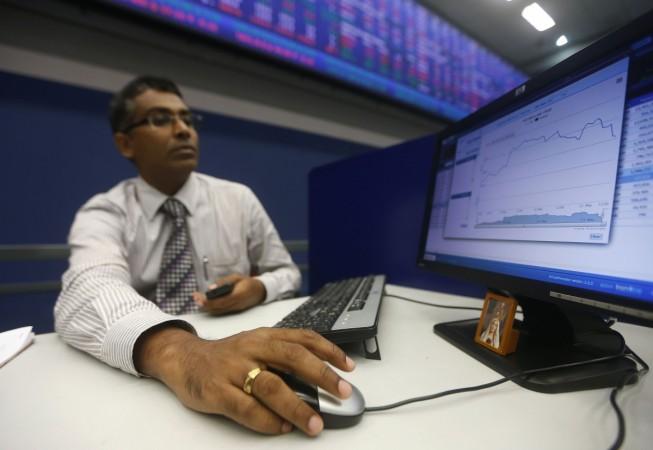 Indian stock markets plunged on Thursday witnessing a sell-off for the seventh consecutive session, taking the benchmark indices to their lowest levels in more than 10 weeks. The correction in the markets was largely led by foreign investors who sold blue chip stocks.
The S&P BSE Sensex fell below the 28,000-mark, closing at 27457.58, down 654.25 points, or 2.33 per cent. The CNF Nifty dropped 188.65 points to end at 8342.15.
Key Reasons for the Sell-off
Weak global cues: Correction in global markets on the back of weak US economic data on Wednesday is one of main reasons behind the sharp fall in Indian stock markets. The orders for US durable goods fell in February, suggesting that the world's largest economy probably slowed sharply in the first quarter.
Following the data, key US stock indices declined sharply, with the Nasdaq Composite down 2.37 per cent.
The Asian markets corrected lower, taking a cue from the sell-off on Wall Street, with Japan's Nikkei 225 dropping 1.38 percent.
Geo-political tensions: Saudi Arabia announced on Wednesday that it had launched airstrikes in Yemen against Houthi rebels. As a result, crude oil prices climbed over 4 percent, a negative development for the Indian economy. Analysts expect crude oil prices to go up to $60 per barrel if tensions escalate in the Middle East.
Low rollovers in F&O segment: Low rollover of the derivative contracts from March series in Futures & Options (F&O) segment, as traders liquidate their positions ahead of fiscal year ending.
"Fresh and aggressive call writing is seen at 8550 and 8600 strike which indicates immediate hurdle near to 8575 and a very rare chance of moving towards 8600 zones," Chandan Taparia, derivatives analyst, Anand Rathi told The Economic Times.
Poor corporate earnings forecast: Many analysts expect fourth quarter earnings of Indian companies to be disappointing.