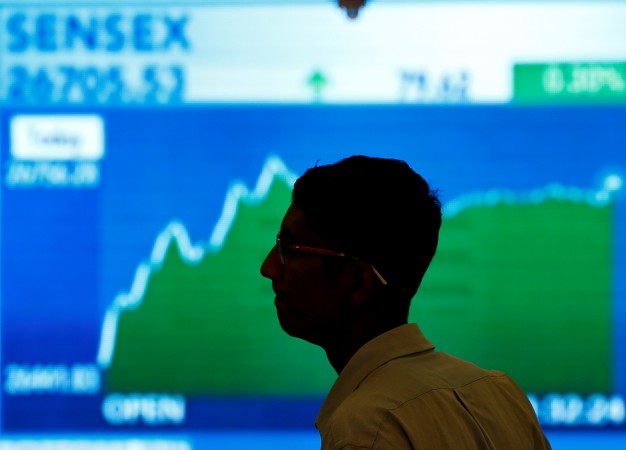 Indian equity markets opened flat on Thursday with marginal gains as concerns over possible liquidity crunch continued in domestic economy post government's demonetisation move. Affirmation of India's rating at "Baa3" without any upgrade by global rating agency Moody's also impacted market sentiments.
Near absence of any global cues also prompted sideways movement as US Federal Reserve chairman Janet Yellen is all set to speak at the Congress today.
The 30-share index, Sensex, was up 0.08 percent at 26,321.36 (10:32 am) in the early morning trade, while 50-share index, Nifty, was trading at 8,114.60 , up 0.04 percent.
Tata Motors (up 2.25 percent), Tata Power (1.70 percent), Axis Bank, BHEL and Hindalco were the top gainers on Thursday's morning trade. Meanwhile, Bajaj Auto was the top loser (down 2.14 percent) followed by Wipro, Hero Motocorp, HCL Tech and Power Grid Corp.
Among sectors, banks, oil and gas, metals and FMCG indices were trading in the green. Auto, consumer durables, capital goods, healthcare and IT sectors, among others, were dragging the market in the early morning trade.
Moody's Investor Services maintained India's sovereign rating at "Baa3" with a positive outlook but declined to upgrade it, saying reforms are yet to show up results.
While lauding the economic reform measures taken up by the Indian government in the recent time, the global rating agency said, "It offers a reasonable expectation that India's growth will outperform that of its peers over the medium term."
It, however, declined to upgrade rating saying, "The reform effort to date has not yet achieved the conditions that would support an upgrade." The country still needed to accelerate private investment in order to reduce the government's debt burden, it added.
Meantime, cash crunch continued in the system as people continued to line up at bank ATMs to withdraw money.
On global front, US Federal Reserve chairman Janet Yellen will speak before the Congress today. Her words will be keenly watched to gauge US Fed's move on possible December interest rate hike, apart from her thoughts on President-elect Donald Trump's economic policies.
In currency market, dollar was ruling at 14-year high, impacting the price of gold. Rupee was trading 0.03 percent down at Rs 67.92 per dollar in the early morning trade.