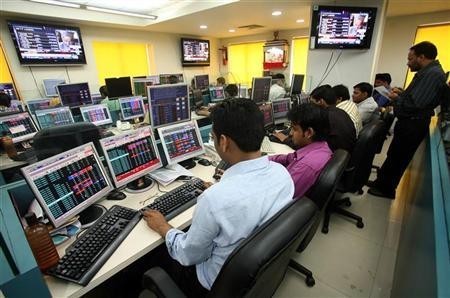 The BSE seansex opened flat on Wednesday, after hitting record highs in the last few days.
The market opened at 25,583.69 points in the pre-opening slot this morning and remained stagnant throughout.
Even when it started its day of trading the sensex did not see any change and remained fixed at 25,583.69 points. However, at 9.55 am, the index surged to 25,613.57 points and recorded erratic behaviour. While it reached a peak of 25,617.81 points, it immediately witnessed a drop of 11.51 points.
The index once again witnessed a sizeable plunge and is currently trading at 25,588.88 points, which is 5.19 points higher than it started. In terms of percentage, it has seen a gain of 0.02 percent.
Early morning gainers and losers are:
Gainers:
Symb Last Change Chg %
COUN.BO 15.00 +2.50 +20.00
UPIF.BO 32.40 +5.40 +20.00
KIDI.BO 29.10 +4.85 +20.00
HIRF.BO 28.20 +4.70 +20.00
CEIT.BO 10.21 +1.70 +19.98
Losers:
Symb Last Change Chg %
JSTL_p.BO 12.70 -3.03 -19.26
SINL.BO 331.00 -42.20 -11.31
MINV.BO 21.15 -2.35 -10.00
AMPL.BO 8.78 -0.89 -9.20
VEER.BO 6.13 -0.56 -8.37
Meanwhile on Tuesday, the market closed flat after recording highs in three continuous sessions and the index fell 0.4 percent.
Shares of L&T Finance Holdings Ltd dropped 5.3 percent and it now plans to sell up to 16.5 million shares to institutional investors at ₹74 per share. Housing Development Finance Corp fell 1.1 percent and ONGC recorded a fall of 2 percent on the second consecutive day. Investors have been opting to take profit, which has been weighing down the index.
Meanwhile, software stocks such as Tech Mahindra and Wipro gained 2.1 percent and 1.6 percent respectively. Additionally, pharmaceutical stocks Lupin Ltd gained 2 percent and Dr.Reddy's Laboratories surged 0.3 percent.
(With inputs from Reuters)