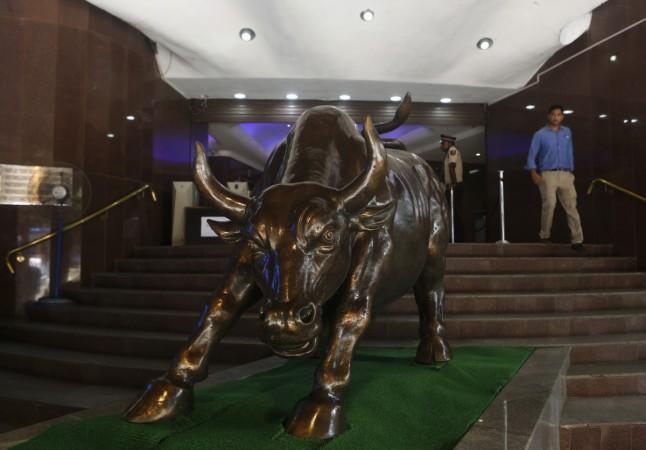 Indian stock markets opened trading on a positive note and closed at record highs, tracking positive cues from Asian markets, in addition to upbeat retail inflation and factory output (IIP) data released last week. The BSE Sensex rally was led by Tata Steel, Dr Reddy's Labs, Lupin and ICICI Bank. One of the top performers on the BSE was Piramal Enterprises that closed 9.84 percent higher on bullish Q4 results.
The 30-scrip closed 134 point higher at 30,322 while the NSE Nifty ended 44 points higher at 9,445.
Tata Steel was the top Sensex gainer, ending 4.35 percent higher at Rs 455, followed by Dr Reddy's Labs (up 3.54 percent at Rs 2,676).
"Consumer goods sector gave impetus to the market in the opening hours on the backdrop of a positive inflation data and IMDs comment on monsoon arrival at the Andaman and Nicobar islands ahead of anticipations. But the concerns on cyber security kept risk appetite on a leash capping gains," Anand James, Chief Market Strategist, Geojit Financial Services, said in a note.
Markets are likely to test new highs, given the steady flow of positive news. "Nifty is now on its way up after precisely finding a support around the earlier breakout point of 9,377. Going ahead, it would merely be a formality to hit new record highs. We continue with optimistic stance on the market and expect projected level of 9,600 (target of 'Bullish Flag' pattern) quite soon," Sameet Chavan, chief analyst-technical and derivatives, Angel Broking, said in a note.
IT stocks had a bad day, tracking news of potential job cuts running into lakhs followed by global headwinds and technology changes. Infosys closed 1.24 percent lower at Rs 952 while TCS ended almost flat at Rs 2,364.
Piramal Enterprises spurts
Shares of healthcare and financial services company Piramal Enterprises zoomed 12.76 percent to hit a fresh 52-week high of Rs 2,941.90 before closing at Rs 2,866, a net gain of 9.84 percent.
The company's consolidated net profit rose 61 percent to Rs 311 crore for the fourth quarter (Q4) from Rs 193 crore in the year-ago period, aided by 45 percent increase in revenues to Rs 2,462 crore, YoY. Net profit for 2016-17 spurted 38 percent to Rs 1,252 crore from Rs 905 crore in the preceding fiscal, while revenues were up 34 percent to Rs 8,547 crore.
"We are pleased to announce that Piramal Enterprises has achieved robust revenue and profitability for the year. Strong growth across all businesses during the quarter enabled us to deliver the best quarterly performance over the last few years," Ajay Piramal, Chairman of Piramal Enterprises, said.