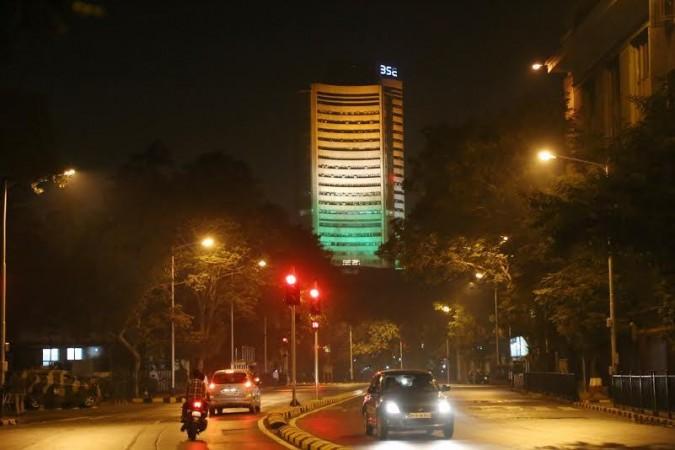 After opening with modest gains, the BSE Sensex rose in afternoon trade and was hovering around 26,300 levels at around 2.45 pm. The rally was led by TCS, Tata Steel, Wipro, Asian Paints and HDFC. Shares of IDBI Bank and IFCI gained on news of NSE filing papers with Sebi for its IPO.
Read: NSE IPO: Exchange files papers to raise Rs 10,000 crore in mega public offering
TCS was trading 1.22 percent higher at Rs 2,344, Tata Steel was up 1.07 percent at Rs 392, Wipro was up 1.20 percent at Rs 475 and HDFC was trading at Rs 1,250.
IDBI Bank shares rose 3.37 percent to Rs 69 apiece while IFCI was up 13.16 percent. IDBI Bank has 1.5 percent and IFCI has 3.1 percent stake, respectively, in NSE.
Maruti Suzuki India Ltd. (MSIL) shares were almost flat at Rs 5,281.
Trading is lacklustre in the absence of global or domestic cues; the first set of corporate data is expected to come next week when automobile companies report their volume sales for December 2016, the first full month of demonetisation. Analysts expect weak numbers in view of the persisting cash crunch, since sales in rural areas are heavily dependent on cash.
Car makers in India include Maruti Suzuki India Ltd. (MSIL), Hyundai Motor, Honda, Renault India, Mahindra & Mahindra (M&M), Tata Motors and Ford Motors, while the major players in the two-wheeler space include Hero Motocorp (HMCL), Suzuki Motors, Honda Scooter and Motorcycle India, Bajaj Auto and TVS Motor Co.
Manufacturers in the commercial vehicle segment include Ashok Leyland, Tata Motors and Eicher Motors.
In November, passenger cars posted a growth of less than 0.50 percent, while the two-wheeler (2W) segment registered 5.85 percent fall, when compared to sales in November 2015.
Benchmark stock market indices opened with modest gains on Thursday in the absence of triggers. The futures and options (F&O) contracts for December expire at the end of the session.
Also read: NSE IPO: Exchange files papers to raise Rs 10,000 crore in mega public offering
The BSE Sensex was up 21 points at 26,231 at around 10.20 am while the NSE Nifty was also trading almost flat, with gains of about 15 points at 8,050. Top Sensex losers were TCS, ONGC and Wipro.
An update by Motilal Oswal Securities Ltd. said that auto sales for December are likely to disappoint, given the persisting currency ban woes.
"The demonetisation impact could continue to hurt consumption and thus results in the near term. Auto volumes are expected to get hurt. Hero is likely to be the most impacted. Overall global cues remain mixed. Broad range for Nifty is seen between 7950 to 8100 in the immediate short term," the brokerage said on Thursday.
The textile sector is expected to get a significant boost in the upcoming budget. "In a departure from the trend of marginal annual hikes in recent years, the textile ministry will likely see a substantial jump in fund allocation for it in the coming budget as the government steps up focus on labour-intensive sectors," Nirmal Bang said in a note.
Another brokerage house said that markets would look for cues in the context of Budget 2017.
"Amidst the recent kerfuffle in domestic markets, hopes may amplify in the coming days as December series contract expires today and the focus may shift to the oncoming Union Budget. Sizeable expectations about a tax payer friendly budget drop in while the demonetization related restrictions are set to end on December 31," Geojit BNP Paribas Financial Services said.
The rupee opened at 68.24 to the US dollar.