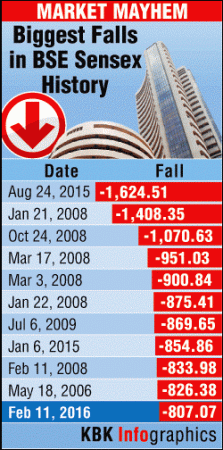 Indian stock markets on Thursday witnessed their third biggest fall ever since Prime Minister Narendra Modi-led government came to power in May 2014. The S&P BSE Sensex tanked by more than 800 points, while the NSE Nifty closed below the psychological 7,000-mark.
The rout was mainly due to a sell-off in bank stocks on account off disappointing results for the December quarter reported by India's largest lender State Bank of India, apart from some other state-run banks. However, many other sectors also saw heavy losses on the indices.
The Sensex, at once stage, had lost 849 points but pared losses later to close the day at 22,951.83, down 807 points, or 3.40 percent.
The Nifty broke the psychological 7,000-mark to plunge to an intraday low of 6,964, but marginally trimmed losses in the closing hours to settle at 6,976.35, with a loss of 239.35 points, or 3.32 percent.
Sensex losers
State Bank of India shares closed with a loss of 2.99 percent at Rs 154.20 on the BSE. The country's top lender reported a sharp fall of 62 percent in net profit at Rs 1,115 crore, as provisioning for bad loans increased to Rs 7,949.4 crore, up 49.2 percent on a year-on-year basis.
Fresh slippages in bad loans also rose sharply to Rs 20,692 crore as against Rs 5,875 crore for the corresponding period last year.
The bad news will spill over to the March quarter as well, said Vaibhav Agrawal, VP Research- Banking, Angel Broking.
"Part of the rise in slippages can be attributed to the accounts coming from RBI's identified corporate which are under stress. Banks were directed by RBI to recognise these accounts as NPAs by March, 2016 and since SBI has not recognised all of them, equal amount of slippages can be expected in 4QFY16," he said.
Prominent Sensex losers included Tata Motors, Adani Ports, BHEL, M & M, ONGC, Tata Steel and HDFC.
A sell-off in banking and mining stocks in European stock markets over renewed global slowdown fears added to the woes of Indian stock markets that are in a strong bearish mode, just 18 days ahead of the union budget for 2016-2017 to be presented on Feb.29 by Finance Minister Arun Jaitley.
NSE losers and gainers
The market breadth was almost dismal on the NSE, with 47 declines against just 3 advances. Top NSE Nifty losers included Vedanta, Tata Motors, BHEL, Adani Ports and ONGC. The NSE gainers were few pharma companies, including Cipla and Dr Reddy's Labs, and Bharti Airtel.