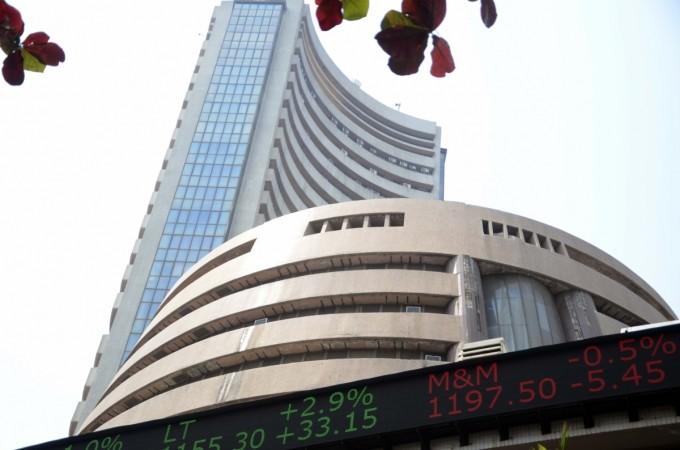 Benchmark indices Sensex and Nifty rose to new highs on Monday, ahead of the quarterly earnings season kicking in from this week, aided by domestic and global factors. IT stocks hogged the limelight, with TCS and Wipro lifting the BSE Sensex to a new high of 31,768 before receding to 31,715, a gain of 355 points, or 1.13 percent.
IDFC, which had announced a merger with the Shriram Group, tanked 5.68 percent to Rs 56.50 while IDFC Bank ended almost flat at Rs 65.20. Shriram Transport Finance closed 3.33 percent lower while Shriram City Union Finance plunged 6.4 percent to end at Rs 2,328.
The NSE Nifty, despite the technical glitch that hit trading for almost 3 hours before it resumed at around 1.50 pm, closed at 9,763, up 97 points or 1.01 percent.
The rally was attributed to, among other factors, sustained buying of Indian equities by foreign institutional investors (FIIs), who have invested around $23 billion in the first six months of calendar year 2017, according to the Economic Times (ET), which also reported that Bharti Airtel plans to invest Rs 2,000 crore in the digital space.
Global cues also lent support to Indian stock markets, with Asian equities gaining on the back of the US posting better-than-expected jobs report for June. The ET, citing US Labor Department, reported that total nonfarm payroll employment increased by 2.22 lakh for the month, significantly higher from the consensus figure of 1.70 lakh.
The satisfactory progress of the monsoon till July 4 was cited as another factor for sentiments remaining buoyed throughout the day.
AU Small Finance Bank, which listed on the stock exchanges, closed at Rs 541, a premium of almost 51 percent to the issue price of Rs 358. The entity got RBI's licence to set up a small finance bank last December and began operations from April this year, according to the Moneycontrol. AU Small Finance Bank's Rs 1,912-crore IPO was oversubscribed 53.60 times, the website added.
CDSL, a subsidiary of BSE, gained further on Monday to end at Rs 338, up 2 percent from its previous close. The stock has rallied significantly from its issue price of Rs 149.