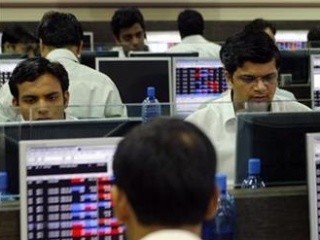 India's Sensex is expected to rise on Thursday as investor confidence is likely to be lifted by encouraging economic indicator from China.
China's trade surplus gained in December in comparison to that in the previous month in an indication that the world's second-largest economy is reviving its growth momentum. According to the data released on Thursday by the National Bureau of Statistics of China, the country's trade surplus rose to $31.6 billion in December, against $19.6 billion in November and above analysts' expectation of $19.7 billion. China's exports rose 14.1 percent in December up from 2.9 percent increase in November.
On Thursday, Hong Kong's Hang Seng gained 1 percent, or 231.33 points, to 23449.80. Among major gainers were Sino Land Co Ltd (3.05 percent) and Wharf Holdings Ltd (2.19 percent).
Japan's Nikkei Stock Average was up 0.89 percent, or 93.86 points, to 10672.43. Among major gainers were Mazda Motor Corp (9.04 percent), Toyobo Co Ltd (6.35 percent) and Kobe Steel Ltd (4.81 percent).
On Wednesday, the U.S. stocks rose as investor sentiment was lifted amid optimism that the earnings season will reveal encouraging quarterly results from companies.
The earnings season, which started in an upbeat note with Alcoa Inc (NYSE: AA) reporting the fourth quarter results on Tuesday, is expected to have improved and could witness the markets maintaining the gains made.
S&P 500 revenue dropped 0.8 percent in the third quarter of 2012, according to the figures from Thomson Reuters. It is highly unlikely that such decline would be repeated in the fourth quarter. The expectation is that S&P 500 revenue has risen 1.9 percent in the fourth quarter.
The Dow Jones Industrial Average rose 0.46 percent, the S&P 500 Index was up 0.27 percent and the Nasdaq Composite Index gained 0.45 percent.
European markets rose on Wednesday as investors remained hopeful that the companies in the U.S. would announce their improving quarterly results to indicate the revival of global economic growth. London's FTSE 100 was up 45.02 points, Germany's DAX 30 index rose 24.64 points and France's CAC 40 gained 11.57 points.
On Wednesday, the Sensex fell 0.38 percent to 19666.59 at the close. The overall market breadth was negative with 1436 advances against 1486 declines. The BSE's Midcap Index declined 0.48 percent to 7301.23 and Smallcap Index fell 0.25 percent to 7615.98.