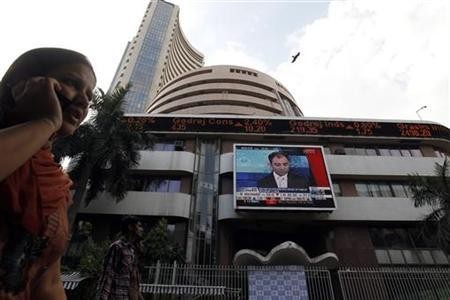 India's Sensex is expected to rise on Monday ahead of the Ministry of Commerce & Industry's Wholesale Price Index, which is the country's critical inflation measure.
Investors will focus on India's WPI report on Monday by the Ministry of Commerce & Industry. The WPI, which measures the change in the price of goods sold by wholesalers, is expected to rise to 7.40 percent in December, up from 7.24 percent in November.
On Monday, Hong Kong's Hang Seng gained 0.31 percent, or 72.50 points, to 23336.57. Among major gainers were Sino Land Co Ltd (1.33 percent) and MTR Corp Ltd (0.65 percent).
South Korea's Kospi Composite Index marginally rose 0.04 percent, or 0.87 points, to 1997.54. Shares of Samsung Electronics Co Ltd gained 0.26 percent and shares of LG Electronics Inc were up 0.40 percent.
On Friday, the U.S. stocks rose marginally with investors remaining watchful on the earnings report from Wells Fargo (NYSE:WFC) and a new set of economic indicators. Wells Fargo, the San Francisco-based bank, reported that its net income in the fourth quarter rose to $4.86 billion or $0.91 per share up from $3.89 billion or $0.73 per share in the same period the earlier year.
Meanwhile, according to the data released on Friday by the Department of Labor, the import price index, which measures the change in the price of imported goods and services purchased domestically, fell 0.1 in December from a 0.9 percent decrease in November. Also according to the data released Friday by the Bureau of Economic Analysis, trade deficit, which measures the difference in value between the imported and exported goods and services over the reported period, fell to $48.7 billion in November from $42.2 billion in October.
The Dow Jones Industrial Average rose 0.13 percent, the S&P 500 Index was flat and the Nasdaq Composite Index gained 0.12 percent.
European markets made marginal gains on Friday with investors being cautious following the report that China's inflation rate accelerated in December faster than expected, lowering prospects for further loosening of the country's monetary policy. London's FTSE 100 was up 20.07 points, Germany's DAX 30 index rose 7.06 points and France's CAC 40 gained 2.90 points.
On Friday, the Sensex gained less than 1 point to close at 19663.64. The overall market breadth was negative with 982 advances against 1964 declines. The BSE's Midcap Index declined 1.49 percent to 7156.88 and Smallcap Index fell 1.58 percent to 7454.76.