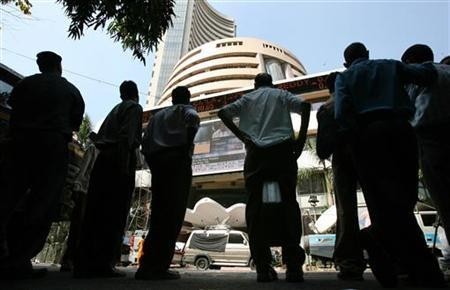 India's Sensex is expected to rise on Monday as investor confidence is likely to be lifted amid upbeat economic indicator from China.
Profits earned by China's industrial companies surged in December, indicating an improvement in the economic condition of the worlds' second largest economy. According to data released on Monday by the National Bureau of Statistics of China, the net income of industrial companies in the country rose 17.3 percent in December compared to the same month of the previous year following an increase of 22.8 percent in November.
On Monday, Hong Kong's Hang Seng gained 0.60 percent, or 141.61 points, to 23722.04. Among major gainers were Swire Pacific Ltd (0.55 percent) and HSBC Holdings plc (0.90 percent).
On Friday, the US stocks gained as investor confidence was lifted amid encouraging earnings reports from corporates. Procter & Gamble Co (NYSE:PG) reported that the company's net earnings rose to $4.06 billion or $1.39 per share in the second quarter, up from $1.69 billion or $0.57 per share in the same period the earlier year. The consumer goods giant also raised its outlook for revenue growth for the fiscal year 2013.
Honeywell International Inc. (NYSE:HON) ) reported that the company's net income rose to $251 million or $0.32 per share in the fourth quarter, up from a net loss of $310 million or $0.40 per share in the same period the earlier year.
Meanwhile, according to data released on Friday by the Census Bureau, a new home sales report, which measures the annualized number of new single-family homes that were sold during the previous month, dropped to 369,000 in December, from 398,000 in November.
The Dow Jones Industrial Average rose 0.51 percent, the S&P 500 Index was up 0.54 percent and the Nasdaq Composite Index gained 0.62 percent.
European markets rose on Friday amid upbeat economic reports from the US showing signs of revival of growth in the world's largest economy. London's FTSE 100 was up 19.54 points, Germany's DAX 30 index rose 109.84 points and France's CAC 40 gained 25.99 points.
On Friday, the Sensex gained 179.75 points to close at 20103.53. The overall market breadth was positive with 1663 advances against 1214 declines. The BSE's Midcap Index rose 1.83 percent to 6974.23 and Smallcap Index gained 1.03 percent to 7142.71.