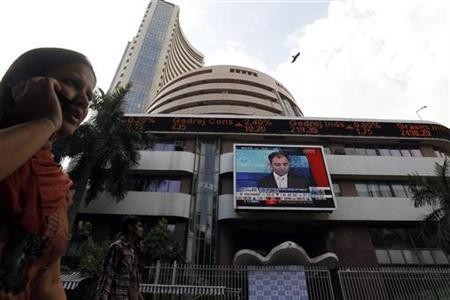 India's Sensex is expected to fall on Tuesday as investor confidence is likely to be weighed down amid revival of political uncertainties in Europe.
On Monday, the US stocks dropped as investor sentiment turned negative amid discouraging political developments in Europe which raised worries about debt crisis looming over the euro zone. Investors were worried to note that Spain's Prime Minister Mariano Rajoy and his party were facing corruption allegations. Subsequently, the debt burden faced by Spain rose with its 10-year government yields climbing 23 bps to 5.44 percent.
Italy was also faced with political uncertainty as former Prime Minister Silvio Berlusconi's popularity increased prior to the general election to be held this month. Also, the nation's debt burden rose with its 10-year government yields climbing 14 bps to 4.47 percent.
Meanwhile, according to the data released on Monday by the Commerce Department, the factory orders report, which measures the change in the total value of new purchase orders placed with manufacturers each month, rose to 1.8 percent in December from 0.3 percent decrease in November.
The Dow Jones Industrial Average fell 0.93 percent, the S&P 500 Index was down 1.15 percent and the Nasdaq Composite Index declined 1.51 percent.
On Tuesday, Hong Kong's Hang Seng declined 1.74 percent, or 412.53 points, to 23272.48. Among major losers were PetroChina Co Ltd (1.44 percent) and AIA Group Ltd (0.81 percent).
Japan's Nikkei Stock Average was down 1.31 percent, or 147.91 points, to 11112.44. Among major losers were Teijin Ltd (3.35 percent), JGC Corp (3.32 percent) and Chiyoda Corp (2.18 percent).
South Korea's Kospi Composite Index fell 0.96 percent, or 18.82 points, to 1934.39. Shares of Samsung Electronics Co Ltd dropped 1.11 percent and shares of LG Electronics Inc were down 1.41 percent.
On Monday, the Sensex declined 30 points to close at 19751.19. The overall market breadth was negative with 886 advances against 1308 declines. The BSE's Midcap Index fell 0.83 percent to 6909.58 and Smallcap Index dropped 0.71 percent to 7006.73.