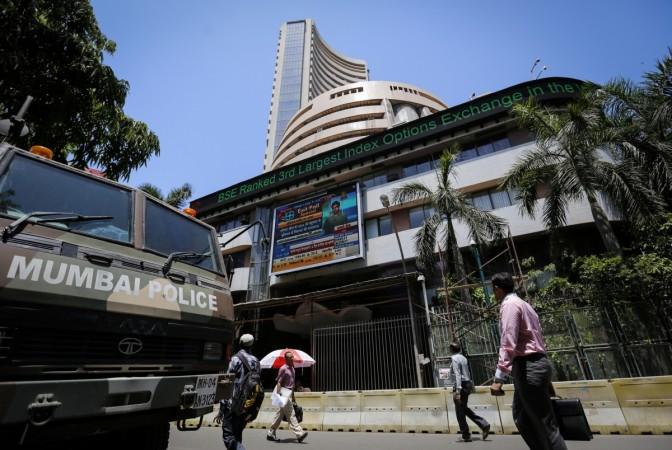 The BSE Sensex rose on Tuesday to a third consecutive record high, surpassing the key psychological level of 24,000 points as stocks tied to the domestic economy surged after exit polls showed the Bharatiya Janata Party (BJP) and its allies winning a majority in the elections.
The BSE Sensex rose as much as 2.2 percent to hit a life high of 24,068.94, while the broader Nifty rose as much as 2.3 percent to hit a record high of 7,172.35.
Narendra Modi is set to become India's next prime minister when actual results are out on Friday, with his coalition broadly tipped to grab the 272 seats needed to clinch a majority, four major exit polls showed on Monday.
Still, exit polls by media organisations have proven unreliable in the past, while doubts have started emerging over whether markets have run ahead of fundamentals as election optimism overshadows issues like tepid earnings growth, fiscal deficit and sticky inflation.
"While the long-term uptrend remains intact, the market looks a bit stretched as it has discounted 260-270 seats for NDA now, so a rally would extend only if we get a positive surprise of say 300 seats," said Aneesh Srivastava, chief investment officer at IDBI Federal Life Insurance.
"The market had wind of exit polls' results and therefore had run nearly 5 percent in two days before that."
The BSE Sensex ended up 1.36 percent at 23,871.23, while the Nifty ended 1.35 percent higher at 7,108.75, adding to their over 4 percent gains in the previous two sessions.
Shares of companies tied to the domestic economy led the gains. Bharat Heavy Electricals Ltd (BHEL.NS) jumped 10.2 percent, while Oil and Natural Gas Corp Ltd (ONGC.NS) rose 3.9 percent.
Larsen & Toubro Ltd (LART.NS) rose 1.6 percent, while mortgage lender Housing Development Finance Corp (HDFC.NS) ended 1.2 percent higher.
The NSE bank sub-index ended 0.6 percent higher after earlier hitting a record high at 14,367.75.
State Bank of India Ltd gained 1.5 percent, while Bank of Baroda Ltd (BOB.NS) rose 4.5 percent.
Among other domestic-oriented stocks, Ambuja Cements Ltd (ABUJ.NS) surged 4.8 percent, and Tata Power Co Ltd (TTPW.NS) rose 3.7 percent.
However, Dr. Reddy's Laboratories Ltd (REDY.NS), India's second-largest drugmaker by sales, slumped 4.1 percent after its quarterly net profit fell short of analyst estimates due to a rise in expenses.