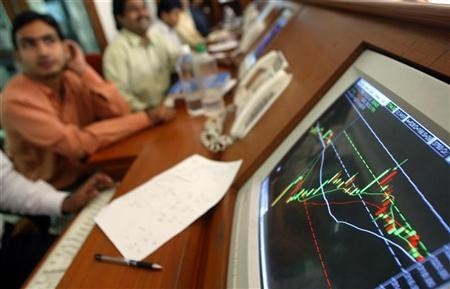 Indian stock markets advanced Tuesday, led by gains from realty, auto and capital goods sector shares.
The 30-share BSE Sensex hit the 20,000 market before retreating to 19,942.26 and the 50-share NSE Nifty gained 0.21 percent or 12.90 points to 6,036.95.
Gains in IT and automobile shares in early trade helped Sensex to breach the psychological 20,000 level for the first time in two years.
TCS shares surged 2.17 percent as the company reported better-than-expected third quarter earnings after markets closed on Monday. India's largest software services firm's third quarter net income rose to ₹35.52 billion from ₹28.87 billion in the same period last year and also topped Reuters estimation of ₹32.43 billion.
Sentiment was also supported by the government's decision to delay the implementation of controversial rules of General Anti Avoidance Rules by two years to 2016.
"We expect software and banks to stay buoyant as both sectors are likely to contribute positively to the profit and revenue growth of the 30 Sensex companies," Raju Katira, trading manager at Triveni Management Consultancy Services, told the Wall Street Journal.
All the 13 major sectoral indices were trading in positive territory except Oil & Gas sector. Realty and auto sectors gained 1.16 percent and 0.69 percent, respectively, while Oil & Gas sector declined 0.11 percent.
Sobha Developers climbed 5.83 percent and Indiabulls Real Estate gained 2.36 percent. Tata Motors and Maruti Suzuki advanced 1.54 percent and 1.40 percent, respectively.
Infosys shares declined 0.40 percent after climbing nearly 20 percent in the last two sessions. India's second largest software services firm's shares rallied after the company on Friday reported better-than-expected third quarter profit and raised its revenue forecast for the fiscal year ending March 31, 2013. Infosys raised its full-year revenue forecast to at least ₹40,746 crore from its prior estimation of ₹39,582 crore.
The overall market breadth was positive with 1348 advanced against 1178 declines. The BSE's Midcap Index gained 0.39 percent to 7,271.24 and Smallcap Index rose 0.33 percent to 7,534.44. CNX midcap Index rose 0.47 percent and CNX IT gained 0.27 percent.
Meanwhile, Asian markets were trading mixed on Tuesday. Japanese markets extended gains as the yen declined to its more-than-two-year low against the green back on hopes of further aggressive monetary easing measures from the Bank of Japan.