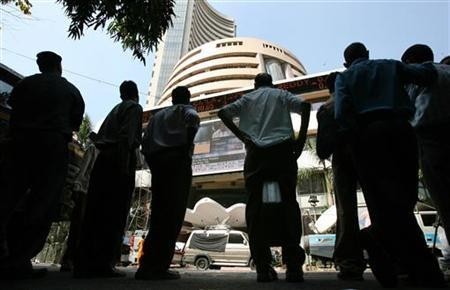 Domestic stock markets witnessed gains for the eighth consecutive session on Tuesday, posting their longest rally since January this year.
The benchmark BSE Sensex rose 74.16 points or 0.27 per cent to close at 27,804.37 on the day. Overall, the Sensex has gained 1,433.39 points in the eight trading sessions.
IBTimes looks at some key factors working in favour of the stock markets:
Better-than-expected monsoon: Markets are mainly underpinned by better-than-projected monsoon rainfalls, which partly erased the fears of drought in the country. Earlier, the government weather agency had projected that the country will witness below-normal monsoon rainfall for the second consecutive year. Rural economy was already hit by unseasonal rains witnessed in February this year and a deficient monsoon rainfall would have been disastrous to the agriculture sector.
Monsoon to drive inflation lower: A better monsoon rainfall is expected to bring down the food prices. Retail inflation increased to 5.01 per cent in May from 4.8 per cent in April, largely led by a rise in food prices. Many brokerages have projected a rise in inflation if monsoon rainfall turned out to be bad.
Scope for interest rate cuts: Equity markets are mainly buoyed by rising scope for rate cuts by the Reserve Bank of India (RBI) in the wake of growing optimism on monsoon rainfall. A fall in inflation rate will allow the RBI room for further rate cuts, thereby boosting overall economic activity in the country.
Struggling crude oil prices: Global crude oil prices continue to struggle to move upwards, as oversupply concerns have again come to the fore. Lower crude oil prices have been a boon to the Indian economy, as they have fallen by around 50 per cent since June last year. Cheap oil prices will help the government to narrow its current account deficit.
Revival in corporate earnings: Many analysts see a revival in corporate earnings following disappointing results in the past two quarters. Reforms, government spending and rise in demand are expected to boost the revenues of domestic companies in the coming quarters.
US interest rate hike: The US central bank has kept the policy rates unchanged at record near zero at June meeting, waiting to see further improvement in economic growth and labour market. It has also downgraded its economic projections for the US economy in 2015 and 2016. Many analysts still expect that the US Federal Reserve will hike rates in its September meeting. Some brokerages said that India is less vulnerable in the event of such rate hikes compared to other emerging markets.