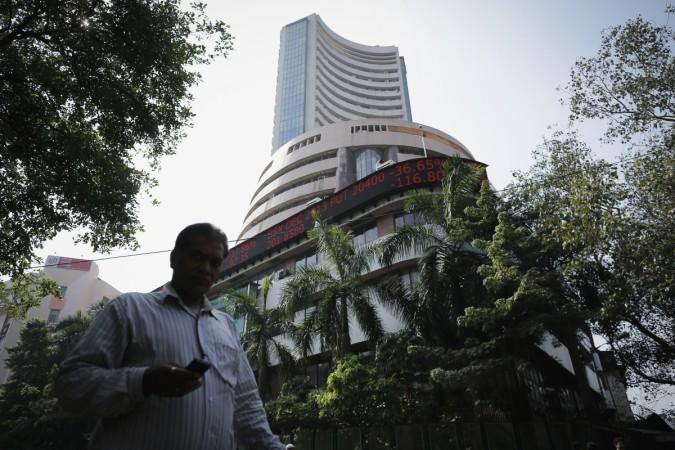 Indian stock markets ended trading on Monday with gains, as better-than-expected fourth quarter earnings and the passage last Friday of a landmark economic legislation lifted sentiments. The S&P BSE Sensex gained 460 points, or 1.82 percent, to close at 25,687 while the NSE Nifty ended the day at 7,866, up 132 points, or 1.71 percent.
The Sensex rally was led by Bajaj Auto, followed by Axis Bank, ICICI Bank and HDFC. Stocks that lost included Dr Reddy's Labs, Hindustan Unilever and Tata Steel.
The biggest gainer among BSE500 companies was Muthoot Finance. Shares of cigarette maker ITC gained on the company resuming production. Godfrey Phillips also ended in the green.
On the Nifty, the biggest gainer was Bosch, followed by Zee Ltd. and Bajaj Auto.
The Indian rupee however, closed with a loss of 4 paise at 66.59 to the U.S. dollar after opening at 66.51. Foreign institutional investors were net buyers of Indian equities worth Rs. 224 crore, according to provisional data provided by the National Stock Exchange (NSE).
Bankruptcy Bill
The Insolvency and Bankruptcy Code, 2015 passed by the Lower House (Lok Sabha) last week is being seen as a landmark legislation that provides for time-bound processes for resolving insolvency-related disputes of companies and individuals.
"These processes will be completed within 180 days. If insolvency cannot be resolved, the assets of the borrowers may be sold to repay creditors. The National Company Law Tribunal (NCLT) will adjudicate insolvency resolution for companies. The Debt Recovery Tribunal (DRT) will adjudicate insolvency resolution for individuals," PRS Legislative Research, a not-for-profit organisation that provides updates on Indian legislations, said in an update.
The Bill now needs to be passed by the Upper House (Rajya Sabha).
Markets would now be awaiting the passage of the Goods and Services Tax (GST) Bill, which has already been cleared by the Lok Sabha. The legislation is aimed at creating an unified indirect tax architecture across the country.