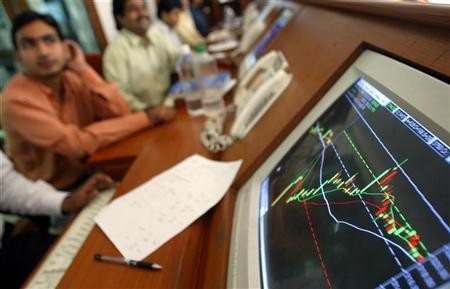 India's Sensex pared earlier gains and ended flat on Monday, as gains in banking and FMCG sectors were offset by weakness in health care and IT sector shares.
The benchmark BSE Sensex gained 0.05 percent, or 9.71 points, to 19,742.47. The 50-share NSE Nifty declined 0.17 percent, or 10.05 points, to 5,840.55.
Markets opened on a high note, tracking positive cues from Asian peers. Both Sensex and Nifty surged in the morning trade as investor sentiment was buoyed after market regulator Sebi allowed Foreign Investors to invest in government securities without any auction mechanism.
However, markets trimmed early gains and turned lower during afternoon trade as weakness in health care and IT sectors weighed. Meanwhile, HSBC downgrades Indian equities to "underweight" rating from "neutral" rating, citing the recent rally and downside risks to growth.
Ranbaxy Laboratories shares tumbled more than 30 percent after the US Food and Drug Administration (FDA) issued an import alert for drugs manufactured at its Mohali plant. The company stock was also downgraded to "underweight" rating at HSBC.
Among the 13 BSE sectoral indices, banking sector surged 1.87 percent and FMCG sector advanced 0.28, while IT sector declined 1.95 percent and healthcare sector plunged 2.41 percent.
The overall market breadth is negative with 1122 advanced against 1240 declines on the BSE.
Meanwhile, Asian stock markets mostly advanced Monday on news that hawkish American economist Larry Summers has withdrawn from the race to head the US Federal Reserve, paving the way for Janet Yellen, who is expected to favuor a slower reduction in the $85 billion monthly asset-buying program.
Hong Kong's Hang Seng surged 1.47 percent and South Korea's KOSPI gained 0.96 percent, while Singapore's Straits Times climbed 1.91 percent and China's Shanghai Composite declined 0.22 percent.