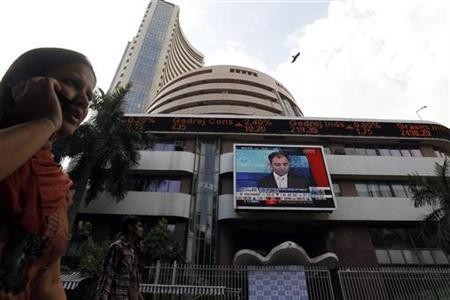 India's Sensex is expected to rise on Thursday as investor sentiment is likely to be lifted with the U.S. Federal Reserve carrying on with the asset purchasing programme, which will provide the much needed stimulus to revive the world's largest economy.
Market players were encouraged to note that the Federal Open Market Committee meeting that concluded on Wednesday opted to continue buying $45 billion of treasury securities per month next year, with the expiring Operation Twist programme being replaced with an expansion of QE3.
On Thursday, Japan's Nikkei Stock Average was up 1.57 percent, or 150.32 points, to 9731.78. Among major gainers were Tokuyama Corp (10.20 percent), Panasonic Corp (4.93 percent) and Nikon Corp (3.90 percent).
Hong Kong's Hang Seng rose 0.15 percent, or 34.36 points, to 22537.71. Among major gainers were Sands China Ltd (2.92 percent) and Bank of China Ltd (2.09 percent).
South Korea's Kospi Composite Index advanced 0.54 percent, or 10.76 points, to 1986.20. Shares of Samsung Electronics Co Ltd rose 2.01 percent and shares of LG Electronics Inc were down 0.81 percent.
On Wednesday, the U.S. stocks were mixed even as the Federal Reserve decided to continue with its stimulus measure to revive economic growth. Meanwhile, according to data released Wednesday by the Labor Department the import price index, which measures the change in the price of imported goods and services purchased domestically, fell 0.9 in November down from a 0.3 percent increase in October. The Dow Jones Industrial Average marginally fell 0.02 percent, the S&P 500 Index was up 0.04 percent and the Nasdaq Composite Index declined 0.28 percent.
European markets rose on Wednesday tracking upbeat announcement from the Federal Reserve. London's FTSE 100 was up 20.88 points, Germany's DAX 30 index rose 25.04 points and France's CAC 40 gained 0.51 points.
On Wednesday, Sensex fell 0.16 percent to 19355.26 at the close. The overall market breadth was negative with 1431 advances against 1498 declines. The BSE's Midcap Index gained 0.06 percent to 7039.07 and Smallcap Index rose 0.24 percent to 7420.17.